Jim Sherman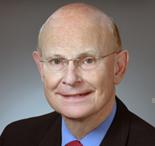 Senior Managing Director, Red Mortgage Capital, LLC
Mr. Sherman joined RED in June 2000. He has more than 40 years of experience in the seniors housing and health care industry, and is an expert in providing financial advisory services in seniors housing and health care finance. Beginning in 1969, he worked as a Certified Public Accountant advising health care, long term care and seniors housing clients on accounting issues, third party government reimbursement issues, and real estate and corporate finance issues. He has experience in health care and seniors housing in both the public and private sectors.
During his career, he has advised clients and completed financings totaling hundreds of millions of dollars. These financings include conventional bank debt for new construction and acquisitions, bond financings, taxable and tax-exempt financings, Fannie Mae, and FHA guaranteed financings utilizing several of the programs for housing, health care and hospitals. Previously, he served as the President and Chief Executive Officer of Churchill Estates, Inc., an assisted living provider. Earlier, he was Senior Vice President of Finance at CareMatrix, Inc. where he structured financings for the company's aggressive development and acquisition plan. Mr. Sherman's previous experience also includes more than twenty-five years in public accounting as a health care consultant, including serving as the National Healthcare and Public Finance Partner at Laventhol & Horwath.
Mr. Sherman is a graduate of Macalester College and received his Certified Public Accountant certificate. He is a recognized leader in the seniors housing industry, having served on the boards of many professional organizations, including a term as President of the National Association of Seniors Living Industries.