The Health Care M&A Information Source - Corporate Subscription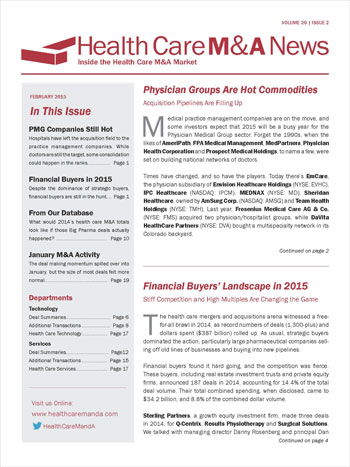 Inside the Health Care M&A Market
The Health Care M&A Information Source is a comprehensive data source that is devoted to health care mergers and acquisitions for the serious analyst and investor. Every day, this service alerts you to developments in every key segment of the health care service and technology markets, including behavioral health care, biotechnology, ehealth, home health & hospice, hospitals, laboratories, long-term care, managed care, medical devices, pharmaceuticals, physician medical groups, rehabilitation and more. You won't find more comprehensive information anywhere else.
Your Corporate Membership Includes:
The Health Care M&A Weekly: the prior week's top deals, delivered every Monday

Health Care M&A News (print & PDF): deals across all health care sectors, put in context by sector and monthly deal flow

The Health Care M&A Report: four quarterly deal reports with complete transaction information for easy reference

Standard access to the Deal Search Online database of health care M&A deals

Health Care Deal News – a weekly eNewsletter covering health care finance, including: the week's health care M&A deals & Charts, descriptions and analysis on featured deals and developments

Access to our issue archive membership site

Connection to other health care professionals in our online community

Access to editorial and research staff
Attention:
Looking for your current issue in PDF form?
Please contact us to receive the login link.
Phone: 203-846-6800
Fax: 203-846-8300
►The Health Care M&A News 2015 Half Year Index is available!