The Not-for-Profit Acquisition Report, 2015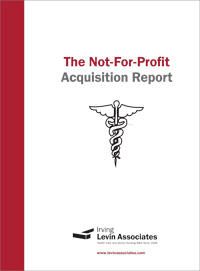 Your source for not-for-profit health care merger and acquisition data
An analysis of not-for-profit M&A activity in one report. The Not-for-Profit Health Care M&A Market report (5th edition) gives you the vital facts and figures you need to evaluate a target, assess a health care company's potential asking price, or complete a consulting project.
This comprehensive report gives you quick access to transaction data and key statistics including revenue and EBITDA multiples, charts and graphs on top acquirers, top sellers, biggest deals and more. This unique report will help you gain a valuable perspective into where the market has been, is now, and where it is heading. There's no easier way to get current on the not-for-profit health care M&A market as well as review historic not-for-profit M&A data.
Publication Date: May 2015 - Order This Newest Edition
Get vital market intelligence, insight and more!
●
Deal-by-deal transaction data for the year's publicly announced not-for-profit merger and acqusition deals through January 1, 2015
●
All the hard-to-find statistics you need to size up the market today--and tomorrow--including:


►Price/revenue ratios
►Price/EBITDA ratios
►Key facts on buyers, sellers and executive contacts

Regular Subscription (PDF). Please call if you are interested in a corporate/group subscription.