Pharmaceutical Sector - Health Care Merger & Acquisition Deals on Demand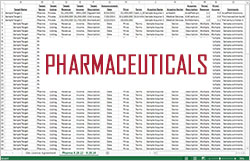 Pharmaceutical Sector - M&A Transactions Spreadsheet
The Pharmaceutical Sector - Merger & Acquisition Transactions Spreadsheet provides you with vital details of publicly announced pharmaceutical mergers and acquisitions over a two year consecutive period in an Excel spreadsheet format. Everything you need to know about the recent pharmaceutical merger and acquisition market is at your fingertips - deal prices, deal terms, financial performance of acquisition targets and critical valuation figures like price/revenue and price/EBITDA multiples, when available. Make smart investment decisions that can help grow your business!
Get all this market intelligence and more:
●
Deal-by-deal transaction data for every announced pharmaceutical deal
●
Annual pharmaceutical M&A market activity
●
All the hard-to-find statistics you need to size up the market today--and tomorrow--including:


►Price/revenue ratios
►Price/EBITDA ratios

Please call if you are interested in a corporate/group subscription.