The 2014 Senior Care Acquisition Report, 19th Edition | M&A Intelligence for Senior Care Business Investors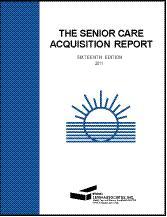 Essential market knowledge at your fingertips

The Senior Care Acquisition Report gives you hard-to-find data metrics and insightful analyses of all this year's senior care mergers and acquisitions.. Get the nitty-gritty details of every publicly announced transaction for the previous year shown visually for the C-suite, while incorporating all data for a comprehensive analysis of the senior care M&A market. This market intelligence is found only in the Senior Care Acquisition Report. Order today!
●
Provides verified fact sheets on each publicly announced transaction that occurred the previous year, including hard-to-find prices, deal terms and key contacts.
●
Analyzes and compiles five-years of data on:
◌ per bed prices
◌ per square foot prices
◌ capitalization rates
◌ geographic breakdowns
◌ and more…
●
Covers the complete senior care spectrum, including:
◌ Independent living communities
◌ Assisted living facilities
◌ CCRCs
◌ Skilled nursing facilities
◌ Sub-acute care facilities
●
Available in regular subscription (print & PDF) or corporate/group subscription. Call for corporate subscription (203-846-6800).