Health care merger and acquisition activity surged to a record high in the first quarter of 2021, highlighting renewed investor confidence in the healthcare market. There were 605 deals announced in the first quarter, a new record quarterly total, according to Irving Levin Associates, which has been tracking healthcare M&A for more than 30 years.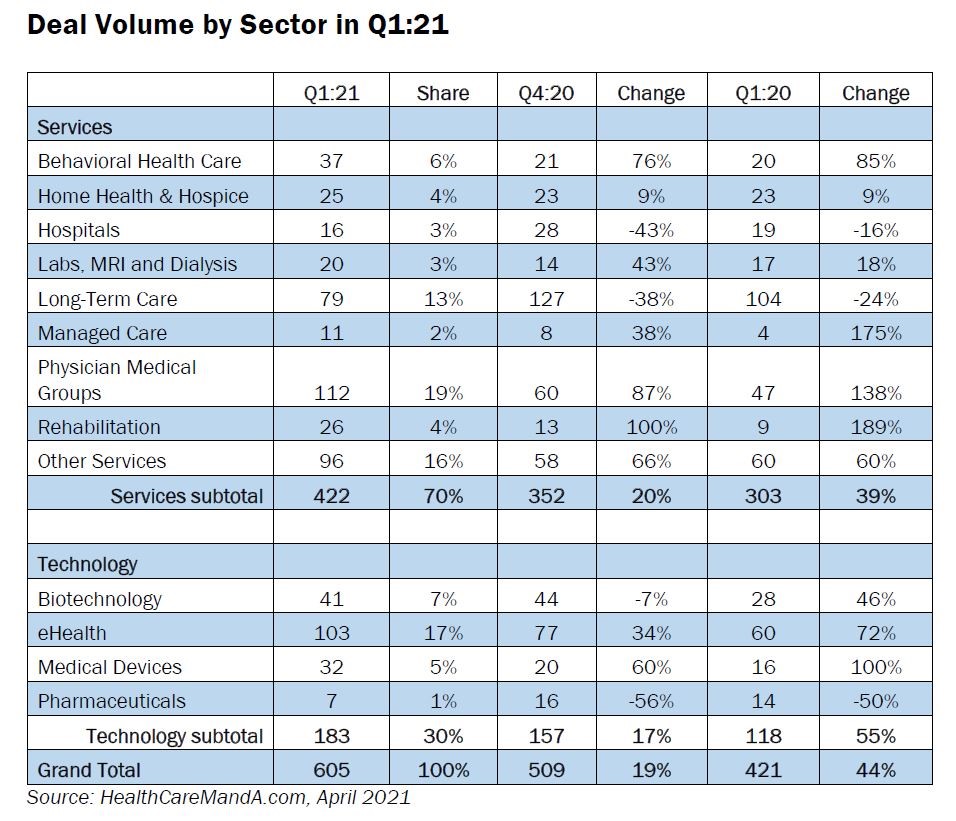 The services sectors saw a strong uptick in deal volume, rising 20% to 422 deals compared with the fourth quarter. The Long-Term Care sector, which includes seniors housing and care, frequently reports most of the deals, but experienced a steep decline in 2020 due to social distancing and safety measures needed to keep residents safe from infection. There was a surge of deal activity in the fourth quarter, but Long-Term Care deal volume declined in the first quarter by 38% percent to 79 deals. Despite the decline, deal volume remains healthy compared to the height of the pandemic in the Long-Term Care sector. Activity in the Physician Medical Group sector hit a record high, soaring to 112 deals, an 87% increase over activity in the fourth quarter.
Activity in the technology sectors was equally robust, posting a 17% increase compared with the previous quarter and a 55% increase year over year. Activity in the eHealth sector was particularly strong; strategic buyers and investors announced 103 deals in the first quarter, a 34% increase over activity in the fourth quarter.
Spending on all healthcare deals was a healthy $89.3 billion, but it didn't quite reach the total announced in the fourth quarter of $123 billion. The first quarter's spending total was a staggering 281.6% higher than spending in the same quarter in 2020, with only $23.4 billion.
"The momentum of deal activity in the fourth quarter has accelerated in 2021, and there are no signs of it slowing down," said Dylan Sammut, editor of HealthCareMandA.com. "After a relatively slow year of deal making due to the pandemic, investors and strategic buyers have plenty of unspent capital they want to use to expand."
For more information on the HealthCareMandA.com investment research source, or for a membership in any of Irving Levin Associates' services, please call 800-248-1668. Irving Levin Associates LLC, established in 1948, is headquartered in New Canaan, Connecticut and is online at www.levinassociates.com. This privately held corporation publishes annual and quarterly research reports, monthly and weekly newsletters, and maintains merger and acquisition databases on the health care and senior housing markets. If you would like to receive future releases, please email pressreleases@levinassociates.com.