FOR IMMEDIATE RELEASE
Steve Monroe
203-846-6800
Fax: 203-846-8300
pressreleases@levinassociates.com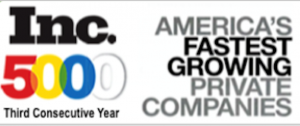 NORWALK, CT – August 30, 2017 – Inc. magazine has, for the third time, recognized Irving Levin Associates on its annual Inc. 5000 list, an exclusive ranking of the nation's fastest-growing private companies.
Irving Levin Associates was the only media company in the state of Connecticut to make the Inc. 5000 list. The average company on the list achieved a mind-boggling three-year average growth of 481%. Companies such as Microsoft, Dell, Domino's Pizza, Pandora, Timberland, LinkedIn, Yelp, Zillow, and many other well-known names gained their first national exposure as honorees of the Inc. 5000.
"The Inc. 5000 is the most persuasive evidence I know that the American Dream is still alive," says Inc. President and Editor-In-Chief Eric Schurenberg. "The founders and CEOs of the Inc. 5000 tell us they think determination, risk taking, and vision were the keys to their success, and I believe them."
Publisher and Partner, Eleanor Meredith says, "We are thrilled to be the only media company in the state of Connecticut to make this exclusive list. Today, media is a highly competitive and rapidly changing industry and to have made it three years in a row is a testament to our top quality editorial and the commitment of our team. We are especially proud to be one of only 34 Connecticut businesses, from all industries, recognized for this award."
Partner and Managing Editor, Steve Monroe added, "Making the Inc. 5000 for three years in a row has been exciting. We cover a growing health care and senior housing investment market, and our readers demand the best industry analysis money can buy."
Irving Levin Associates, Inc., headquartered in Norwalk, Connecticut, is the leading publisher of business intelligence for investors in the senior care and healthcare merger and acquisition markets. Since 1948, this privately held corporation has provided Wall Street investors and senior and health care operators with market intelligence not found in mainstream media outlets through financial newsletters, research reports, webinars and merger and acquisition databases.
For More Information about Irving Levin Associates, visit: https://www.levinassociates.com/
———- end ———–
Keywords: National Award, Fastest Growing Company, Seniors Housing, Health Care, Mergers & Acquisitions, Media Company, Inc. 5000, Inc. Media, Irving Levin Associates, The SeniorCare Investor, HealthCareMandA.com