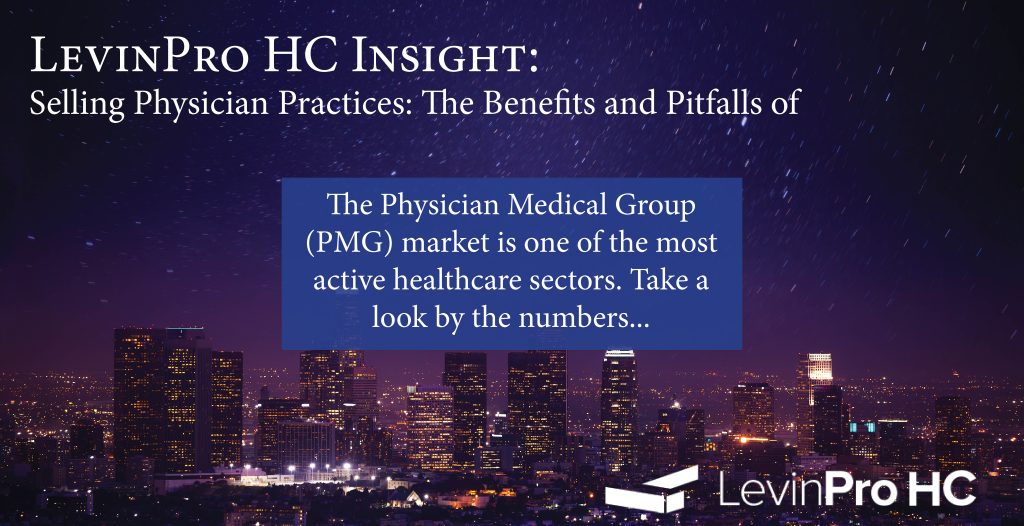 The Physician Medical Group (PMG) market is one of the most active healthcare sectors, in part driven by how many are selling physician practices physicians are choosing to sell their practices to larger entities. As of January 2022, 74% of physicians in the United States are employed by a hospital, health system or corporation, according to data from Avalere, in a report sponsored by the Physicians Advocacy Institute. The consolidation even more pronounced when considering that in January 2021, 69% of physicians were employed by a hospital or corporate entity, the study reported. A 5% rise in just one year is definitely note-worthy.
Selling physician practices, by the numbers
To further understand the consolidation in the PMG space and how that's impacting the M&A market, let's dig into the statistics. According to data captured in the LevinPro HC database, throughout 2022, 614 PMG transactions were reported, a 34% increase from 2021. The disclosed purchase prices of 2022 total more than $3.1 billion. Dental practices were the most popular targets for investors, accounting for 229 acquisitions, or roughly 37% of PMG deals.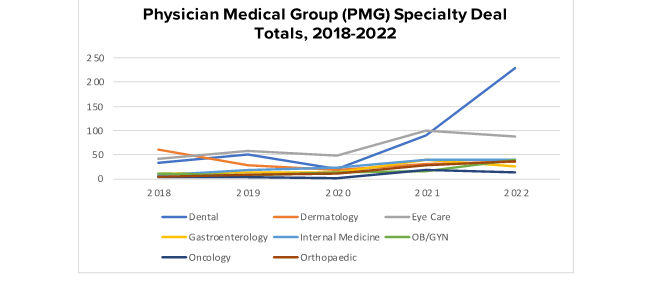 Private equity, and or their portfolio companies, represented the largest type of buyer in the PMG space, accounting for 429 of deals, or 70%. Firms such as Charlesbank Capital Partners (38 deals), Webster Equity Partners (24), Shore Capital Partners (23), Harvest Partners (17), Quad-C Management (17) and NMS Capital (15) lead the buyers. In addition to PE groups dominating the PMG industry, independently owned physician groups represent 16% of the acquisitions in 2022. In contrast, hospitals represented 3% of PMG buyers in 2022.
Trends in the first quarter of 2023 followed a similar pattern. In Q1:23, 136 PMG deals were reported, with 44 of them in the dental specialty. Disclosed spending totaled more than $106.3 million across three transactions. Private equity and/or their portfolio groups accounted for 61% of deals (80 transactions) while health systems represented nearly 3% of buyers with four transactions. Active acquirers were Charlesbank Capital Partners (7 deals), Chicago Pacific Founders (5) and Harvest Partners (5).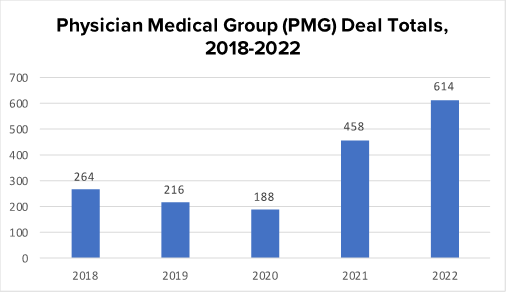 Pros of selling physician practices
For M&A activity in the PMG space to reach such heights, thousands of physicians nationwide must have agreed to sell their practice. So, why did thousands agree? The benefits of selling physician practices, whether it's to a health system or private equity firm, can be summarized in three crucial points: access to resources/funding, help with workload and increasing patient trust.
Offering an advisor's perspective on the benefits of acquisitions, we spoke with Michael Kroin, CEO of Physician Growth Partners, about how private equity can help physician practices grow.
"You must invest to grow. If you're not growing, you're ultimately putting yourself in a position of risk," said Kroin.
This touches upon the notion that practices that aren't increasing their reach or how many patients they care for will lose out to other practices who are investing in their future. While it may not be at the forefront of most patients' minds, physician practices are naturally in competition with each other to care for patients, and those who aren't investing in their future, won't be able to compete.
In September 2022, Smile Brands, Inc., a portfolio company of private equity group Gryphon Investors, acquired San Antonio, Texas-based Aria Dental, which is run by Dr. Mustafa Iqbal. We spoke with Carmen Cosme, an employee, about the acquisition process and the impact Smile Brands has had on Aria Dental. Her comments support Kroin's idea that private equity-backed practices benefit from an influx of capital.
"They [Smile Brands] are providing a great service from HR resources to marketing…The practice has been seeing more patients," she said. With more resources supporting the practice, the office can be run more efficiently and take on more patients. The marketing resources have also added to Aria Dental's growth, all which is possible because of Smile Brands and Gryphon Investors' funds.
Cosme even addressed the benefit of Smile Brands remodeling the facility and adding more up-to-date dental machines, both of which will entice more patients and benefit the practice.
We also spoke with Dana Jacoby, CEO and President of Vector Medical Group, a healthcare consulting organization, about helping with workload and administrative duties.
"If you're a small doctor group, how do you negotiate pay, better rates, better supply chain or better physician recruitment? How do you navigate payors and insurance contracts? What if the payers cut rates? That's where private equity comes in as doctors maintain clinical autonomy, but their capital need is met by someone else," Jacoby said.
Gary Herschman, a lawyer at Epstein, Becker & Green said, "Management services organizations are consolidating practices and using sophisticated and advanced corporate infrastructure to provide a lot more support to physicians than they could do on their own, and to best position themselves for the increasing challenges of private practice, and the growing competition in their markets."
The support comes in the shape of dividing up administrative responsibilities, negotiating better rates, casting a wider net for physician recruitment with better pay and more.
A common theme between Jacoby and Herschman was that many younger doctors see the administrative aspects of owning a practice to be a headache and not worth their time. By allowing a larger group to come take over those duties, or even work at a practice that's owned by a larger entity, doctors have more time for patients and are happier in the long run.
We interviewed an ophthalmologist whose practice was recently purchased by a North Platte, Nebraska-based hospital and he addressed patients' perspectives. He said that many patients feel a sense of trust and confidence going to his practice because they can be sure that his business will be around for the long run. The longevity offered by health systems only increases the benefits of not being independently owned.
And the cons…
Yet, while there are strong benefits, it would be dishonest to not address some of the downsides and concerns facing physicians.
"Getting used to new workflows, using new systems and trying to navigate the hospital systems and policies," the ophthalmologist said.
Even with the learning curve that comes with introducing new systems and policies into any workplace, those are, in the long run, challenges that the practice can overcome. And the new systems and workflows are aimed to benefit any practice with more efficient protocols and available tools.
Another concern, from a physician's perspective, is the potential increase in costs for the patient which could force patients to seek care elsewhere. A JAMA Internal Medicine study from August 2022 reported that the average doctor's office visit price rose 26% when backed by a PE group. This increase can be attributed to the added resources (such as marketing campaigns, new equipment and introducing new systems) PE groups introduce to practices as well as a surge of new patients that could be costlier to care for than the previous cohort of patients.
Interwoven with the increase in costs is the physician's potential loss of autonomy and control over their own practice.
"Physicians give up autonomy over aspects like which receptionist to hire, what supplies to order and office equipment and furnishings to use, but clinical judgment over medicines, implants & devices, medical procedures, how to treat patients, etc., remains with the physicians," Herschman said.
This sentiment was echoed by both Kroin and Jacoby, who also noted that, legally, private equity groups, or other management firms, cannot tell physicians how to practice medicine. This fact quells many reservations held about selling physician practices because they know they can practice medicine how they see fit and in the best interest of their patients.
To address concerns regarding lack of autonomy impacting quality of care, Cosme said that the quality of care at Aria Dental has not and will not change.
"[The patients] don't have that different of an experience just because we partnered with [Smile Brands]. We provide the same services so in their eyes maybe the changes are just helping the practice run more smoothly," Cosme said.
While physicians who do sell their practice give up certain aspects of control, it is neither unexpected nor unfair as the negotiation process ensures all parties involved know what the details of the transaction entail.
"We negotiate the remaining business and economic points in a way that's going to be more favorable so the doctors can continue to practice how they have historically…We also try to negotiate a seat on the board or voting rights," Kroin said.
If a deal is done with the proper amount of education on both sides, it will be beneficial for all. While there are drawbacks to selling physician practices, the pros seem to outweigh the cons and physicians keep selling their practices. It's no wonder physician practice M&A activity continues to set records.