"The SeniorCare Investor is the most valuable deal letter in the business. You can't be in senior care and not get this newsletter."
Paul Diaz
Former CEO, Kindred Healthcare
The SeniorCare Investor
Inside the World of Senior Care Mergers, Acquisitions and Finance Since 1948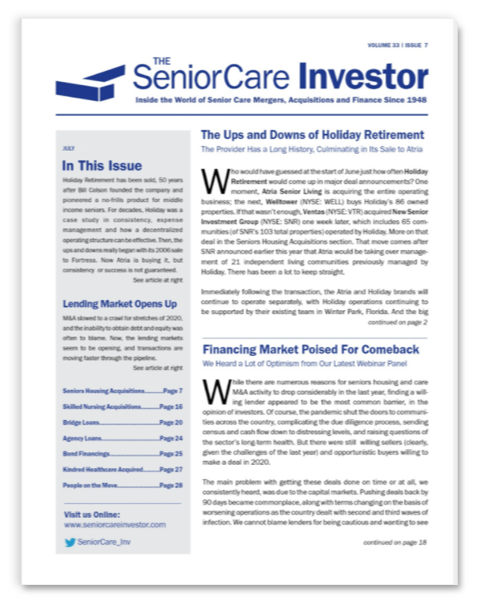 Why Order?
Proprietary Information
Access to non-public information and pricing statistics not available to any other publication; proprietary analysis to guide your investment decisions
Latest M&A News
Stay up-to-date on the market with information on all of the most recent seniors housing and care M&A deals, both large and small.
Access to Research & Editorial Staff
Need more information on a deal or a story? Easily contact our research and editorial staff when you purchase a full membership
Why Us?
Trusted Source
The SeniorCare Investor has provided information and analysis for more than 30 years on seniors housing and care M&A.
Unfiltered Opinions
Thoughtful opinions on what is happening and what to expect in the coming years to help you make your investment decisions.
Proven Predictions
Correctly predicted the disastrous results of the Brookdale/Emeritus merger; predicted Assisted Living Corporation would sell below its publicly traded price and countless other spot-on predictions.