Skilled Nursing: Half the nursing homes did not go out of business as many predicted and acquisition volume and prices remained strong. Where was the disconnect?
September 2022 | Cost: $247
Development Market: Should we be afraid of the next boom, why or why not, and what property types will be the most developed?
November 2022 | Cost: $247
Interested in sponsoring a webinar?
Reach industry professionals in our Interactive Webinar Series.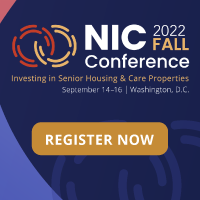 'The NIC' provides unparalleled opportunities to meet and engage with decision-makers with senior level executives representing more than 70% of conference attendees. Connecting operators, investors, and care partners is crucial as the industry prepares for the next generation of residents and their families. Be part of the conversation with senior housing and care leaders as they share insights and explore new strategies for staying on top of where the industry is headed.

September 14 – 16, 2022

Marriott Marquis Washington, D.C.