Advertising & Sponsorship Opportunities
The SeniorCare Investor and LevinPro HC are leaders in providing M&A 2024 data in the fast-growing seniors housing and healthcare markets.
Through a range of advertising channels:
Reach an elite audience of key decision-makers
Build your brand
Position your firm as a thought leader.
Target Our Audience with industry-wide exposure and branding, content marketing, lead generation, and thought-leadership engagement.
Download the 2024 Media Kit or contact Cristina Blazek-Hearty at advertising@levinassociates.com or (203) 295-4519.
Industry Thought Leader Partners



Digital Banner Ad Campaigns
Get industry wide exposure by advertising in our weekly eNewsletters, The SeniorCare Investor Dealmakers Forum and LevinPro HC  Newswire
Digital advertising in:
• The SeniorCare Investor Dealmakers Forum
• LevinPro HC Newswire
Includes:
• Weekly digital newsletter
• Website rotation
• Mobile banner ad
Print/Digital Issues
Target an elite audience by advertising in the monthly print and digital issues of The SeniorCare Investor and Spotlight on Senior Care M&A.
Two-pg Spread/Advertorials, Full, 1/2, or 1/4 page ads in:
• The SeniorCare Investor (12x)
• Spotlight on Senior Care M&A (annual)
• Health Care M&A News (12x)
Thought Leadership
Build your brand with sponsorship
opportunities, two-page advertorials, and custom blasts.
Thought leadership options:
• Webinar and Whitepaper sponsorships
• Thought leadership advertorial
• Custom E-blasts
Audience Profile
Reach Top Decision Makers in a Unique Market Niche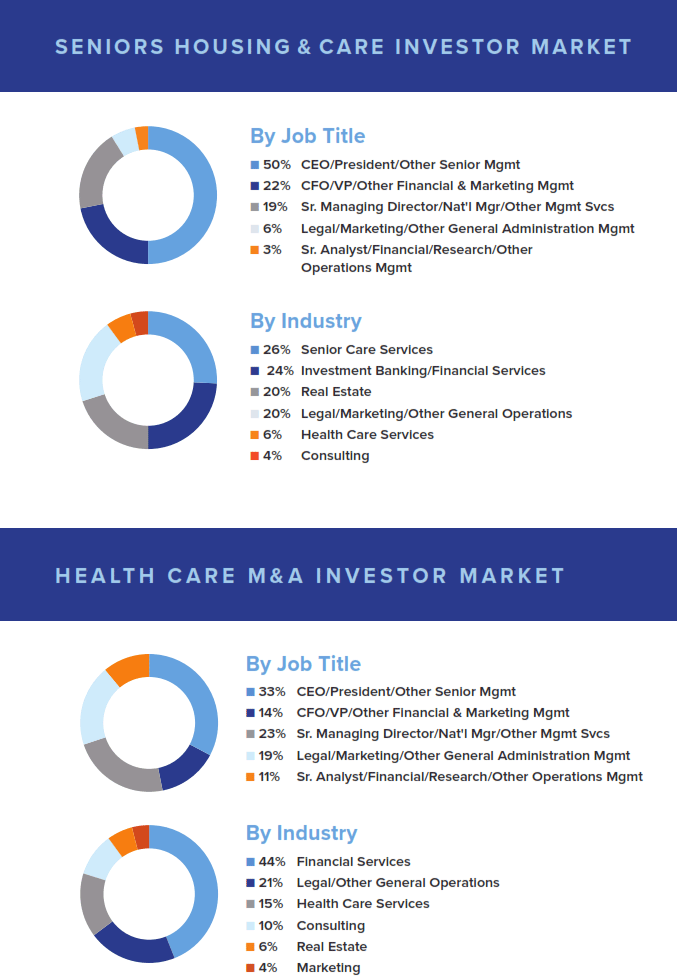 LevinPro is the only platform to exclusively track health care and long-term care acquisitions and capital markets activity. Explore advertising with us.
Testimonials
"It is the preeminent publication in our sector to measure the pulse of the investment and capital markets for seniors housing. It has been an easy decision for nearly 20 years to advertise in The SeniorCare Investor. "
Jeff Binder, Managing Director
Senior Living Investment Brokerage