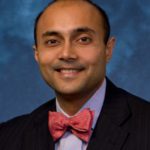 Senior Vice President of Strategy, Inova Health System

Amit Rastogi, MD, is senior vice president for strategy, growth and innovation at Inova, the Washington, DC, region's leading not-for-profit healthcare system that serves more than 2 million people annually.
Dr. Rastogi oversees strategy development across the Inova enterprise. He serves as the principal medical innovation leader for the Inova Center for Personalized Health (ICPH), an internationally prominent hub that connects researchers, clinicians and consumers to transform medicine from a reactive to a predictive model. In this role, he directs plans for ICPH's various operating entities including the Inova Schar Cancer Institute, Inova Translational Medicine Institute, Bioinformatics Research Center and Inova Wellness Center.
In addition, Dr. Rastogi works closely with Inova's senior leaders to develop strategies that reinforce the organization's position as the premier healthcare provider in the region. These include a direct-to-consumer business model; systemwide marketing, branding and communication initiatives; donor outreach and philanthropic efforts; and population health management.
Dr. Rastogi has more than 20 years of experience in healthcare executive roles and private practice as a primary care physician. Most recently, he was chief executive officer and chief medical officer at Northeast Medical Group/Yale-New Haven Health System in Connecticut, where he led the transition from volume-to value-based healthcare, instituted numerous safety and quality initiatives, and implemented an electronic medical record.
After graduating summa cum laude from Fairleigh Dickinson University, Dr. Rastogi earned his medical degree from the University of Medicine and Dentistry of New Jersey. He went on to pursue postgraduate work in anesthesiology at Brigham and Women's Hospital-Harvard Medical School in Boston, and internal medicine at St. Vincent's Medical Center-Yale School of Medicine in Connecticut. He recently received his Master's Degree in health care management from Harvard University.