Agenda Health, a healthcare-focused M&A advisory firm based in Austin, Texas, advised Assured Hospice in its acquisition by Agape Care Group, a portfolio company of private equity firm Ridgemont Equity Partners. Agenda Health's mission is to deliver consistent results with a faith-based, Christ-centered focus.
Agape originally announced the deal in late June, but we were able to speak with Alex Veach, Director of Transactions Services at Agenda Health, to get an inside look into the Assured Hospice acquisition, as well as the home health M&A market as a whole.
Based in Cartersville, Georgia, Assured Hospice provides physical, emotional and spiritual end-of-life care through a team of qualified professionals to insure patient dignity. The company offers inpatient hospice care provided for pain control or other acute symptom management that cannot feasibly be provided at home. Assured Hospice's facility has a registered nurse and qualified caregivers on site 24 hours a day to provide direct patient care.
Agape Care Group is a hospice and palliative care provider in the Southeast. The company has more than 1,500 employees caring for 3,500 patients in South Carolina, Georgia, North Carolina, Alabama and Louisiana.
According to Veach, Agenda had worked with the owner of Assured Hospice for a couple of years prior to bringing the business to market. Agenda then ran a competitive process to identify the right partner for Assured Hospice, which led to the transaction with Agape. Following the signing of the LOI, Agape and Assured went through the due diligence process smoothly to closing, with no significant challenges arising, reported Veach.
Assured was performing well prior to the acquisition and presented a great opportunity for Agape to grow their presence in Georgia.
"From Agenda's perspective, Assured was an attractive opportunity to Agape because of their geographic footprint as well as the strong, local brand Assured had built in their service area," said Veach.
Alex Veach goes beyond the deal and paints a picture of the wider home health M&A landscape, specifically in Georgia. "Georgia is a great M&A market for home health and hospice," noted Veach. "We've facilitated several transactions, both public and private, in that state and region of the country and anticipate this continuing into the second half of 2023."
We've certainly seen this trend in the data. According to data captured in the LevinPro HC database, there have been two Home Health & Hospice (HH&H) deals announced in Georgia so far this year. This follows 2022 when there were four HH&H deals announced.
The Assured Hospice acquisition also marks Agape's fifth transaction in Georgia since its first in June 2021. During 2022, the company acquired Jesup-based Lanier Hospice in January, followed by Buford-based GHC Hospice in September.
Home health is the most active subsector, making up 40% of all HH&H deals during 2022, and 44% deals YTD (23 of 52), as of August 14. Hospice is the second busiest subsector, making up 21% of 2022 deals, and 12% of 2023 deals YTD.
"On home health, we see a decrease in reimbursement rates on the horizon as well as the continued increase in Medicare Advantage penetration as things to watch that will affect the corresponding M&A market."
Shifting focus to hospice, Veach commented, "we feel very bullish about the outlook of the space and the positive implications it will have on the M&A activity of it. CMS continues to increase the reimbursement rate for hospice. We also continue to see transaction activity among the market share leaders of the space, which tends to stimulate increased transaction flow at all sizes throughout the space." According to our LevinPro HC data, deal volume in the HH&H sector as a whole has been on a steady decline, with Q2 being the first quarter in quite some time where we experienced increasing deal volume (see the chart below). According to a market research report published by Meticulous Research® in February 2023, the home healthcare market is projected to reach $514.5 billion by 2030, at a CAGR of 7.9% from 2023 to 2030.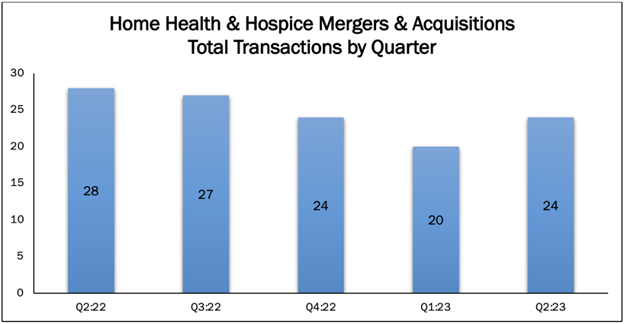 Source: LevinPro HC, July 2023
Veach remains optimistic about the market's trajectory. "We do feel that Q2 is the start of an upward trend that will carry into 2024. We see evidence of this in our own transactions that are scheduled to close later this quarter and the quarter to follow, but also see this reflected in the general activity of the market." Veach continued, "We saw many of our buyers and sellers take a pause on their M&A plans at the beginning of the year, but now are seeing many of them restart things and we look forward to being a part of that."
Furthermore, the involvement of major players like Optum and CVS Health is poised to infuse vitality into the HH&H sector. "We've seen publicly held entities invest heavily in creating a full-scale continuum of care. We think this will create many opportunities for the sector as a whole," Veach predicts.
Our talk with Alex Veach has brought out important insights about the acquisition of Assured Hospice, Agape's growth plans and the bigger trends in the industry. With the healthcare field always evolving, the partnership between these players and the role of big names like Optum and CVS Health suggest a bigger, brighter future for the HH&H sector.
Avery Swett is a writer for Levin Associates. Levin Associates provides comprehensive coverage of the deals, companies, and trends shaping the healthcare industry. Clients access proprietary M&A transaction data and daily news/analysis through the LevinPro platform. Schedule a demo today to see what LevinPro can do for your team.