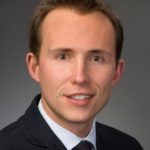 Vice President, Lancaster Pollard
Chris Blanda is a vice president with Lancaster Pollard, a financial services firm based in Columbus, Ohio, that specializes in providing capital funding to the health care, senior living and affordable housing sectors. In addition to underwriting tax-exempt bond offerings, Lancaster Pollard provides organizations a complete range of funding options through its Fannie Mae/FHA/GNMA/USDA-approved, mortgage lender subsidiary. Chris is in charge of the firm's efforts in Indiana and Kentucky with responsibility for all details involved in the structuring, underwriting and closing processes.
Since joining Lancaster Pollard in 2009, Chris has been instrumental in bringing to market a variety of financing structures totaling more than $500 million. Chris focuses his efforts solely on health care and senior living debt capital markets. He provides support on a range of bond transactions and mortgage loans for rehabilitations, new construction and refinance projects. He has a thorough understanding of the various financing structures available through conventional bond financing as well as FHA, Fannie Mae and USDA programs.
Chris earned his MBA from The Ohio State University Fisher College of Business with a concentration in corporate finance/investment management. He received a bachelor's degree in finance from the University of Dayton. Before joining Lancaster Pollard, he was an associate at Citi Global Transaction Services, a division of Citi which provides financial services to the hedge fund and private equity industry.