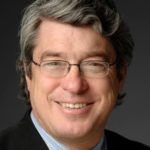 Principal and Director, Perkins Eastman
Daniel Cinelli, FAIA has worked with more than 100 national senior living not-for-profit organizations, sponsors, and associa¬tions and has become a true visionary in the field. He leverages his 30 years of expe¬rience to facilitate his clients' strategic thinking. He has been a speaker, collaborator, strategic partner, and advisor to Leading Age and 15 other not-for-profit state associ¬ations since 1982. He is a frequent contributor to industry publications and a regular speaker on future elder care consumer trends.
Dan has given more than 65 lectures with life-changing ideas to a variety of senior housing and gerontology organizations over the past 20 years. Dan's latest pre¬sentations have included: "Don't Do Sideways, Invent the Future," AJAS Annual Conference, March 2012. "Environmental Design, Core Course III Coalition for Leadership in Aging Services, 1989 – present," Intensive twice-yearly design primer taught to senior living administrators throughout the U.S. "Avoid the 'Uh-Oh' Moment: Integrated Scenario Planning," The Association of Ohio Philanthropic Homes (AOPHA) Annual Conference, September 2010. "How Will the New Consumer's Demands be a Catalyst for YOUR Market?" American Institute of Architects (AIA) DesignDC 2010, August 2010. "Senior Housing Design Trends," 3rd Annual Spring Symposium on Senior Housing Design And Development, sponsored by the University of Maryland School of Architecture, Planning and Preservation | Colvin Institute of Real Estate Development | Neighborhood Development Collaborative, May 2010. "Ready, Set, Go = Resilient Planning Tactics," Association of Jewish Aging Services (AJAS) Annual Conference, April 2010.
Dan is a member of the College of Fellows of the American Institute of Architects (AIA), National Council of Architectural Registration Boards (NCARB), Leading Age, and Life Services Network (LSN). He has served as Chairman of the AIA Chicago Chapter Housing Committee, Global Design Alliance, and member of the CLAS Advisory Group; was a founding member of the Society for Advancement of Geriatric Environments (SAGE) and a member of the Continuing Care Accreditation Commission (CCAC) Consultant Task Force; and was a co-designer of the Leading Age Assisted Living Prototype.
Many of Dan's design and planning concepts have received awards from two of the senior living industry's most respected programs – Design for Aging Review (AIA/Leading Age) and Contemporary Long Term Care. He also received the Alumni Constituent Leadership Award from the University of Illinois at Chicago School of Architecture Alumni Association and the Young Architects Award from the AIA Chicago Chapter.