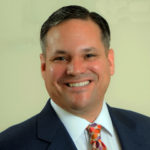 Managing Director, HealthTrust LLC.
Mr. Salinas is a Managing Director of HealthTrust, LLC – a valuation and consulting firm formed in 2003. He presently oversees offices in Boston and Los Angeles and has over 25 years of real estate valuation experience, of which 20 years have been exclusively in the healthcare and senior living industry. In 1994, David began specializing in the appraisal of healthcare properties by opening the Boston office of Gulf/Atlantic and was Regional Vice President when it was acquired by PriceWaterhouseCoopers ("PwC") in 1999. With a strong background in real estate tax assessment valuation for municipalities from his previous employment at Vision Appraisal, his senior living expertise shifted focus to an industry sub-niche when he was named CCRC Product Leader for PwC's Healthcare Valuation Practice in 2000.
Mr. Salinas now practices exclusively in healthcare and senior living valuation throughout the U.S. and is a State-Certified General Appraiser in 27 states. He has appraised and supervised the development of hundreds of CCRC assignments and has qualified as an expert witness in United States District Courts as well as State Superior / Municipal Courts. Mr. Salinas is a graduate of Wentworth Institute of Technology in Boston majoring in Building Construction. He is a designated member of the Appraisal Institute (MAI), American Society of Appraisers (ASA) and the Royal Institution of Chartered Surveyors (MRICS). Mr. Salinas continues to support the senior living sector as a member of LeadingAge, the Urban Land Institute (ULI) and regularly attends industry events in the U.S., Canada and Mexico.
David maintains residences in Florida, Los Angeles and Massachusetts and is an avid golfer – noting he was a Francis Ouimet Caddy Scholarship Fund recipient with eight years of caddy service at Oakley Country Club in Watertown, Massachusetts during his teen and college years. David is also a member of the Donald Ross Society which promotes the preservation of golf courses created by his favorite designer. In David's words, "true architectural gems".