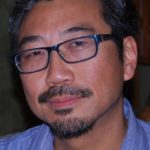 Director, Front Porch Center for Innovation and Wellbeing
Davis Park is the director of the Front Porch Center for Innovation and Wellbeing, a registered 501(C)(3) – founded on a belief that innovation plays an important role in enhancing each individual's ability to "live life my way." He develops and directs all of the Front Porch Center's technology initiatives that explore innovative uses of technology to empower individuals to live well, especially in their later years.
Davis brings more than 15 years of program development experience and a diverse set of skills in technology implementation and deployment to senior, low-income, and other underserved communities.
Davis is an inaugural member of the Zero Divide ZFellows program and serves on several boards and committees dedicated to promoting technology access, adoption, and policy. He holds a master's degree from UCLA's Urban Planning Program and a bachelor's degree in anthropology from UC Berkeley.
Prior to joining Front Porch, Davis served as the director of Community Technology Programs at the Little Tokyo Service Center and oversaw several community-based initiatives that focused on technology access for a diverse population of underserved communities including Asian and Pacific Islander seniors.