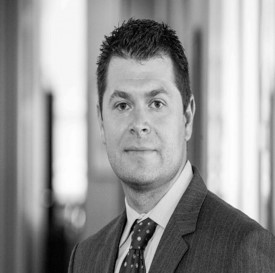 Director, Cain Brothers
Eugene Goldenberg is a Director in the Firm's Corporate M&A Advisory practice. Mr. Goldenberg joined Cain Brothers in 2012 with over 6 years' healthcare services equity research experience covering many of the same sector verticals where he now utilizes his advisory and deal execution capabilities. Mr. Goldenberg's recent notable transactions include the sale of St. Croix Hospice to the Vistria Group, the sale of TMG Health (a subsidiary of HCSC) to Cognizant Technology Solutions, the sale of New Century Hospice to Curo Health Services, a private placement by Coliseum Capital on behalf of BioScrip, the sale of Salveo Specialty Pharmacy to Catamaran, LASIK Vision Institute's acquisition of TLC Laser Eye Centers, the sale of LCA-Vision to PhotoMedex, and the sale of BioScrip's Home Health Services Business to LHC Group.
Prior to joining Cain Brothers, Mr. Goldenberg was a Senior Equity Research Analyst at BB&T Capital Markets, where he focused on various healthcare services verticals, including Post-Acute Care (Home Health, Hospice, Skilled Nursing Facilities, and Long-Term Acute Care Hospitals), as well as Pharmacy Benefit Managers, Specialty Supplies Distribution, Community-Based Services, Specialty Pharmacy, Home Infusion, Healthcare IT, and Wellness / Disease Management.
Mr. Goldenberg's prior experience also includes working within Morgan Stanley's Controller Financial Reporting group.
Mr. Goldenberg graduated with high honors from Rutgers University with a BS in Finance and a minor in Art History.