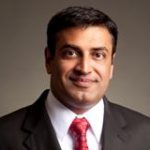 Managing Director, BMO Harris Bank
Imran Javaid is Managing Director of BMO Harris Bank. Prior to BMO, Imran was Managing Director of the Healthcare Real Estate Group, lending practice within Capital One Bank's Commercial and Specialty Finance business. In this role, Imran led the team which provided financing to companies in the senior housing and care industries.
Imran joined Capital One in July 2011 to lead its efforts in Healthcare Real Estate within the Commercial and Specialty Finance division of Capital One. Prior to joining Capital One, he was a Director in the Healthcare Real Estate Group of CapitalSource, Inc. a commercial lending and banking, investment and asset management company. He led loan transactions and direct real estate investments including acquisitions and dispositions for long-term care facilities including Skilled Nursing Facilities and Assisted Living Facilities. Since 2001, Imran has been involved with over $3.0 billion in capital transactions. Imran has led large acquisitions and dispositions between CapitalSource and Omega Healthcare Investors, Inc and CapitalSource and Healthcare Property Investors, Inc.
In 2008, Imran served as the Chief Accounting Officer for CapitalSource's efforts to spin off its owned healthcare assets into a new publicly owned real estate investment trust ("REIT"). He was heavily involved in all aspects of the initial public offering (IPO), oversaw development of financial and performance statistics, submitted documentation to the Securities and Exchange Commission (SEC), and prepared for public release.
Prior to joining CapitalSource, Imran worked for the Carlyle Group, a nationally renowned private equity firm. With the Carlyle Group, Imran undertook portfolio management and financial modeling for office and telecom buildings, hotels, and light industrial facilities.
Imran holds a BA in Accounting from Franklin and Marshall College in Lancaster, Pennsylvania, is a non-practicing licensed Certified Public Accountant (CPA) in the State of New York and a Chartered Financial Analyst (CFA) charterholder.