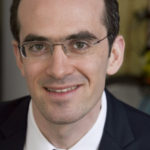 President & Founder, Bright Power, Inc.
Jeffrey Perlman is the President and Founder of Bright Power. He spends his days solving the most challenging energy problems facing building owners today. An experienced energy auditor, energy analyst and solar-energy-system designer, Jeff is as happy in a boiler room or on a rooftop as he is in a corporate boardroom.
Jeff is also the President & co-Founder of EnergyScoreCards™, a subsidiary of Bright Power that provides energy benchmarking and energy management software for building portfolios. In addition to his work at Bright Power, Jeff is adjunct faculty at NYU and the City University of New York (CUNY) and serves on the board of the New Alternatives Fund, a mutual fund that invests in renewable energy. Prior to founding Bright Power, Jeff worked with Greg Kats at Capital E, with whom he co-authored "The Costs and Financial Benefits of Green Buildings," a ground-breaking report that used economic cost/benefit analysis to show that building healthy, energy-efficient, and environmentally responsible buildings makes economic sense.
Jeff is a Certified Energy Manager (CEM), LEED AP, and a BPI Multifamily Building Analyst. He has a degree in Applied Physics from Yale University.