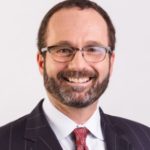 Chief Clinical Officer & Chief Innovation Officer, MissionPoint Health Partners
Dr. Jordan Asher is MissionPoint's Chief Clinical Officer & Chief Innovation Officer. His role focuses on creating innovative models of care delivery, as well as integrating caregivers, facilities and other partners into MissionPoint's network. An expert in clinical oversight and physician network development, Jordan's work is aimed at designing and implementing clinical models that deliver on our organization's promise to improve the health of our communities.
Before joining MissionPoint, Jordan was Physician Network Executive for Saint Thomas Health in Nashville, where he led the implementation and design of physician alignment strategies. He also served as Medical Director for a large private practice incorporating multiple specialties while practicing internal medicine specializing in Hypertension.
Dr. Asher holds an M.D. from Vanderbilt University, as well as a Masters of Science in Medical Management from the University of Texas, Dallas and a graduate Certificate in Formation for Catholic Healthcare Ministry Leadership from the Aquinas Institute of Theology and Ascension Health. He is a member of the American College of Physician Executives and the American Society of Hypertension.