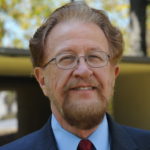 President & CEO, Retirement Housing Foundation
Dr. Joseph has served as the President & CEO of RHF since July 1987 and prior to that, he served for a year on the Board of Directors of the organization. In his leadership position, Dr. Joseph is responsible for the implementation of board policies, for collaborating with the Board of Directors and senior staff to develop the RHF strategic plan, and for monitoring that plan.
He serves as Chief Executive Officer of RHF Management, Inc., and Foundation Property Management, Inc., as well as president of all solely sponsored RHF affiliated corporations. He is responsible for recruiting and supervising senior staff members and assures quality management and financial performance. He is the Corporation's primary spokesperson with churches, government agencies, and provider associations.
He has served on the board of directors and the house of delegates, and chaired the housing committee of LeadingAge (formerly the American Association of Homes and Services for the Aging), a national association of nonprofi t providers. He chaired the office building task force for LeadingAge, and has also served as chair-elect and chair of Aging Services of California (formerly the California Association of Homes and Services for the Aging), the state affiliate of LeadingAge.
He has been asked to speak in front of Congress on numerous occasions and has served, as a delegate-at-large, on the White House Conference on Aging.
Previously, Dr. Joseph served as senior pastor of Peace Memorial United Church of Christ in Palos Park, IL and was executive director of several facilities for the care and housing of senior adults.
He received his B.A. from Ursinus College in Collegeville, PA, a B.D. and an M.Div, both from Lancaster Theological Seminary.