More than three-quarters of Americans ages 50 and older want to age in place, according to an AARP survey. This comes as The U.S. Administration on Community Living projects the number of Americans aged 65 and older will rise to 80.8 million by 2040, creating significant demand for home health delivery models in the United States. But now, with the Home Health & Hospice sector approaching a projected global shortage of 10 million health workers by 2030, according to the World Health Organization, the labor issues we're already seeing in the space are only going to worsen.
The labor issues have profound implications for M&A activity within the sector. According to LevinPro HC data, deal volume in the Home Health & Hospice sector as a whole has been on a steady decline, with Q2 being the first quarter when deal activity increased since Q3 2021. Looking at the monthly data, deal totals have been gradually falling since August 2021.
Prior to the decline, deal totals were on the rise. The COVID-19 pandemic had a profound impact on healthcare systems worldwide and on the way healthcare was delivered. Hospitals and healthcare facilities became overwhelmed, leading to the need for alternative care options. Many individuals preferred to receive care at home rather than in hospitals or clinics to reduce the risk of exposure to the virus. This resulted in a surge in demand for home healthcare services during this period. Prior to the pandemic, there were five million people in 2019 receiving care at home, according to a report from Home Health Care Management & Practice. As the coronavirus spread and patients felt reluctant to go to public places, this number increased to 12 million by the end of 2020, and it only continued to rise through the duration of the pandemic.
LevinPro HC's M&A data also highlight a shift in subsector activity, with durable medical equipment/respiratory home care becoming the second most active subsector, surpassing hospice. These industries offer reusable medical equipment often in the home to aid in a better quality of living. This shift in interest may be related to the labor shortage as it could be more challenging to staff hospice services, making them unappealing to investors looking at the space. Acquiring companies in subsectors with less staffing demand may be a strategic response to labor shortages in specific healthcare niches.
Staffing companies play a pivotal role in addressing the workforce challenges faced by healthcare subsectors like hospice and home health. These types of companies act as intermediaries, connecting qualified professionals with healthcare institutions in need of their services. Despite the broader healthcare staffing landscape, it's worth noting that the at-home healthcare staffing sector remains relatively unexplored in terms of acquisitions.
Although there have been 23 healthcare staffing deals announced during the first three quarters of 2023, there has been only one at-home healthcare staffing provider acquired during the same time frame. Greater New York Nursing Services acquired Stuart, Florida-based VIP America in January 2023 for an undisclosed amount. Founded in 1997, VIP America recruits and refers professional certified nursing assistants, home health aides and nurses for home care services to the elderly and infirmed across Central and South Florida.
Only one at-home healthcare staffing deal, at a time when labor in the space is so strained, may seem alarming, especially considering the broader healthcare staffing sector is still very much steady compared to previous annual data. M&A demand for at-home healthcare staffing providers has not been much higher in previous years either. In 2022, there were three of these deals, and in 2021 there were two.
There may be several reasons for this low number, but one major one is that the industry is not that appealing to investors when it's so strapped not only for cash but for the people who keep it going. There are also some headwinds worsening the issue, including reimbursement changes and the high cost of labor, but these will be explored more in-depth in the next section of this whitepaper.
Headwinds Impacting Home Health & Hospice Labor
The Home Health & Hospice market has faced substantial staffing challenges, primarily due to its demand for specialized, in-home care providers. This has given rise to distinct issues in recruitment and staff retention within the space.
One major hurdle stems from the industry's relatively low wages, making it less attractive for job seekers. According to a report released September 2023 by PHI, home healthcare workers were paid an average wage of about $14.50 during 2022, making it the lowest-paid direct care industry.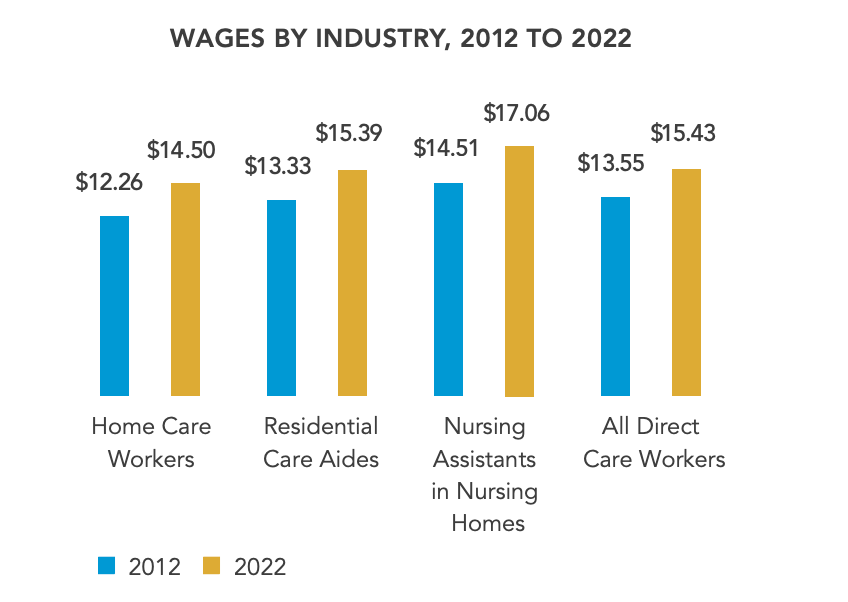 Many home care aides have opted for leaving the industry altogether for more competitive compensation in supply chain, warehouse, retail and other jobs. This comes as PHI concludes in the same report that more than 900,000 more home care workers will be needed by 2031.
Although the home health market in the United States had already been facing various labor-related challenges prior to the COVID-19 pandemic, including a workforce shortage, high turnover rates, wage disparities, lack of training and more, the crisis exacerbated some of the issues. An estimated 420,000 nursing home workers left the workforce since 2020. Two-thirds of states reported the permanent closure of at least one Medicaid home- and community-based (HCBS) provider during the public health emergency and cited workforce shortages as the primary challenge for certain types of home and community-based services providers.
Another headwind hampering the industry is a growing fear of violence against home care aides, nurses and therapists. According to a 2021 analysis from the Centers for Disease Control and Prevention (CDC), research studies show that 18% to 65% of home healthcare workers experienced verbal abuse from patients during the past two decades. Roughly 41% reported being sexually harassed in the workplace, and as many as 44% experienced a physical assault during that time.
A hospice care worker and her patient were recently robbed at gunpoint in Chesterfield County, Virginia. She was put in a chokehold while leaving the home of the elderly woman in her care.
"We feel safe leaving the elderly's home, because we believe that the elderly are safe. No one wants to hurt them," she told local news. "We both survived it unharmed. That's the positive thing. But health care workers need to be aware of their surroundings more, and be prepared."
Google "home health aide attacked," and you'll see countless stories of violence against these individuals, often coming from the patient and/or their family members. There was another home health aide who was stabbed inside her patient's residence in the Bronx. A 45-year-old man who reportedly lives in a psychiatric facility was arrested after he was accused of repeatedly stabbing his grandmother's home care attendant, 62-year-old Maria Rios. Ms. Rios, who has dementia, was stabbed 40 times, and one of the wounds missed her heart by a centimeter. The attacker was charged with three counts of assault, criminal possession of a weapon and harassment.
Ensuring that staff are properly educated and trained to handle aggressive patients and/or their family members is crucial for home health and hospice providers to minimize workplace safety risks.
Burnout is also having a significant impact on the industry. Burnout rates range from 40% to 70%, and resignation rates are rising across the healthcare industry. This trend is driven by several factors, including heavy workloads, long hours and the emotional toll of caring for vulnerable patients.
Furthermore, the chronic shortage of healthcare workers in the sector means that those who remain are stretched even thinner. The result is a workforce that is physically and emotionally exhausted, leading to decreased job satisfaction and a higher likelihood of leaving the industry altogether. Burnout not only affects the well-being of healthcare workers but also compromises the quality of care provided to patients. As the industry grapples with labor shortages and other challenges, prioritizing the well-being of its workforce is essential to ensure that people are receiving the highest quality of care.
Rural vs. Urban America
Americans across the country depend on home health services to maintain their independence and avoid costly hospital stays or moving into care facilities. However, rural Americans often struggle to access these affordable home health services in their regions, as they deal with headwinds that are unique to them.
According to a recent study led by the University of California, San Francisco, the number of adults with self-care disabilities (difficulty bathing or dressing) were highest in the South, as well as parts of Maine, the Pacific Northwest and New Mexico, ranging from 3.9% to 8.7% across the United States.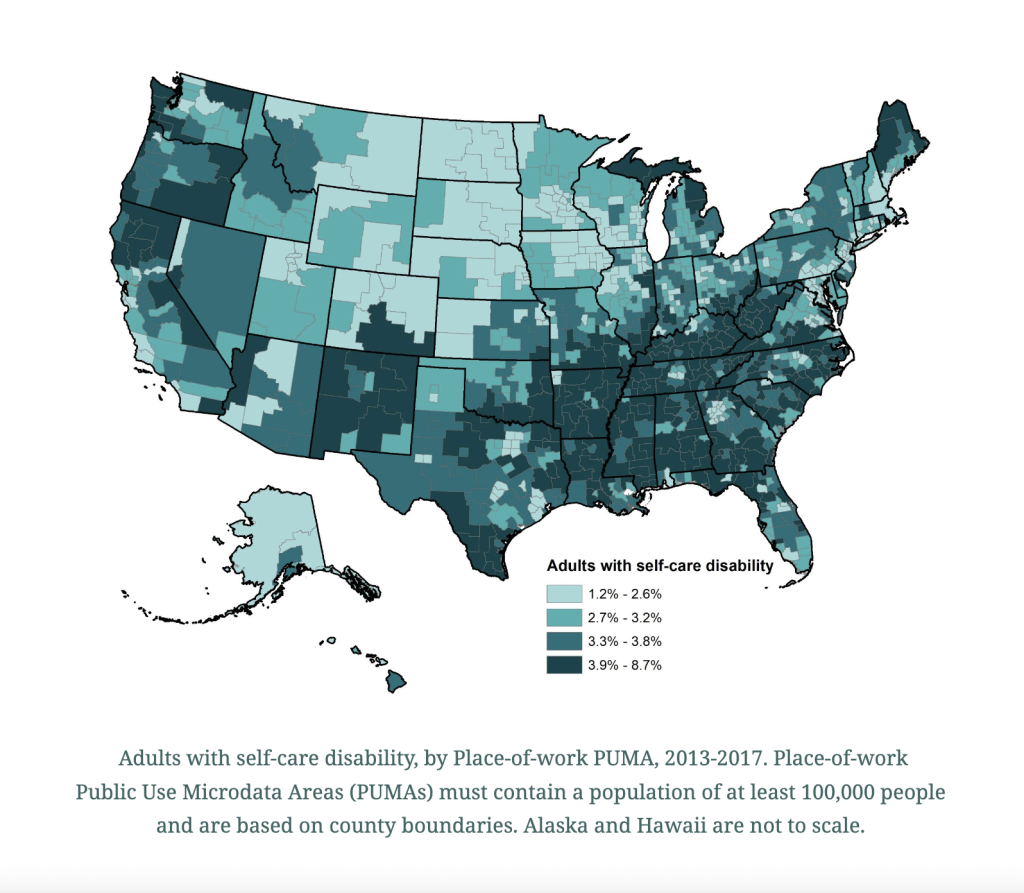 A disproportionate percentage of people living in rural communities report self-care disabilities, and yet those regions have the fewest personal care aides per capita to help them. According to the University of California study, the states with the lowest number of personal care aides per 1,000 adults with a self-care disability were mostly southern, including Mississippi, Alabama, Georgia, Florida, North and South Carolina, Arkansas, Oklahoma, Tennessee and Kentucky. Rural areas face lower average salaries, intensifying staffing shortages where access to care is already limited. The job of a home health aide also tends to be harder in rural communities, where they often have to travel long distances to reach their clients.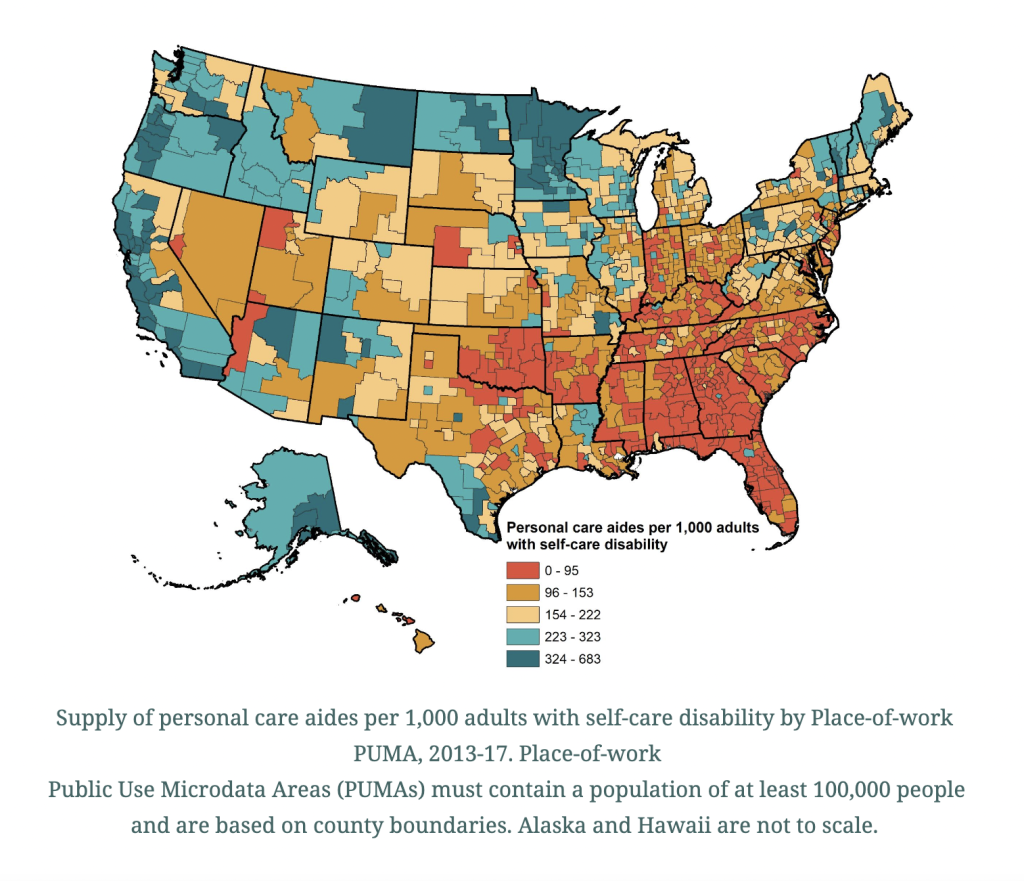 The data, as outlined in the University of California study, paints a stark picture of the challenges faced by rural communities in accessing the care they need.
The authors of the study listed possible solutions to combat the labor crisis, including increasing wages and benefits, improving training and career development options, adding flexibility to state Medicaid waiver programs to pay family caregivers for providing personal care services and providing incentives and compensation for travel. Of course, this is easier said than done. It's a complex challenge, one with many layers and working pieces. Ultimately, the goal is to ensure that individuals, regardless of their geographic location, have access to the care necessary to uphold their independence and overall well-being.
Tailwinds and the Future of the Industry
Despite the headwinds hampering the industry, there are some potential tailwinds that could have a positive impact on the space, as well as the workforce that keeps it going. For one, the healthcare industry, including home health and hospice, is increasingly embracing technology, which could work in its favor.
Telehealth services, remote patient monitoring and electronic health records have the potential to streamline operations, reduce administrative burdens and improve patient outcomes. These innovations in the space can make healthcare delivery more efficient and appealing to a more tech-savvy, Gen-Z workforce, potentially attracting new talent to the sector. More importantly, these services enable seniors to stay in their homes safely for longer.
Additionally, other tools, such as remote patient monitoring (RPM) devices, wearables like Apple Watches and a multitude of mobile apps, make not leaving the home even easier, contributing to a more efficient and patient-centric healthcare system. By harnessing RPM devices and wearables, healthcare providers can keep a vigilant eye on patients' vital signs and health metrics without requiring them to leave their homes. This approach to healthcare management helps identify potential issues early, reducing the risk of hospitalizations and ensuring timely interventions when necessary. Furthermore, the accessibility of these tools empowers patients to actively engage in their own health, fostering a sense of autonomy and control over their well-being.
The presence of large players in the Home Health & Hospice sector, like UnitedHealth Group and CVS, also could make it attractive to other big buyers in the future. In March 2022, UnitedHealth Group's Optum acquired LHC Group for $6 billion. Just a few months later, in November 2022, CVS announced its purchase of Signify Health for $8 billion. More big dollar deals could help bring interest back to the space, making it more appealing to work in.
These large public companies are also making moves to attract more workers in the midst of the shortage. CVS, for example, raised its minimum hourly wage to $15, marking a more than 60% increase in its minimum enterprise hourly wage over a four-year period.
Meanwhile, UnitedHealth Group has announced that it will invest $100 million over the next 10 years to address the crisis. The investment will sponsor 10,000 clinicians from underrepresented racial groups who are pursuing or advancing careers in healthcare. UnitedHealth Group's investment, made through United Health Foundation, seeks not only to address the shortage of employees but also the healthcare workforce's striking lack of diversity. Only 22% of Black patients and 23% of Hispanic patients have a provider of the same race, according to research from the Urban Institute.
The Centers for Medicare & Medicaid Services' recent proposal to require home health agencies to allocate at least 80% of Medicaid payments to direct care workers could also serve as a game-changer in the battle against the workforce shortage in the home health and hospice market. By directing a substantial portion of Medicaid dollars toward higher pay for caregivers, the proposal aims to enhance the stability and attractiveness of the direct care workforce. This move is especially crucial given that one in six direct care aides currently lives below the poverty line.
The policy seeks to address the shrinking workforce, which is straining to meet the increasing demand for services. It's also in the government's interest to provide more care in the home because it is cheaper and requires fewer resources. Research indicates that such investments in the workforce are essential to reverse the trend of declining numbers of home care workers per recipient. While there are concerns within the industry about the feasibility of this requirement, it has the potential to significantly improve worker retention, qualifications, and, ultimately, the quality of care provided.
As the industry grapples with workforce shortages, rural disparities and concerns like violence and burnout, the promise of technological advancements, the presence of major players and policy initiatives offer a promising glimpse into the future of home care. This is an industry poised to endure and evolve for the long term.
Avery Swett is a writer for Levin Associates.
Levin Associates provides comprehensive coverage of the deals, companies, and trends shaping the healthcare industry. Clients have access to proprietary M&A transaction data and daily news & analysis through the LevinPro platform.

Schedule a demo today to see what LevinPro can do for your team.