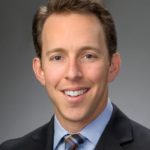 Chief Executive Officer, Lancaster Pollard
Nicholas Gesue is the chief executive officer of Lancaster Pollard. Over the last decade, Nick was instrumental in the development of Lancaster Pollard's mortgage lending platform. In his previous tenure as the chief credit officer, he played a key role in implementing the firm's private equity fund and balance sheet lending operations. He has also served as an executive committee member and has been involved in Lancaster Pollard's strategic planning and implementation efforts for nearly four years. His accomplishments include successfully underwriting more than 350 transactions totaling more than $3 billion in loan volume.
Nick received his bachelor's degree in economics from Denison University in Granville, Ohio. He is a member of the Executive Committee on Healthcare Financing, a coalition of mortgage and investment bankers, financial advisors and law firms based in Washington, D.C.