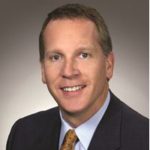 Senior Vice President, CBRE
Scott L. Moore has joined CBRE HMF, Inc., as Senior Vice President and Head of FHA Production for CBRE's FHA multifamily and healthcare lending platform.
Scott has nearly 30 years of experience in commercial real estate as both borrower and lender, including specific FHA lender experience since 2000. During the past four years Scott was a Managing Director at Red Mortgage Capital responsible for business development and strategic direction for their FHA healthcare group. Prior to that Scott was President of Ziegler Financing Corporation and also President of Lancaster Pollard Mortgage Company.
CBRE is an FHA-approved direct lender offering the full array of HUD FHA multifamily mortgage insurance programs.  Competitive financing solutions are available for multifamily rental, cooperative, seniors, and health care properties for new construction, substantial rehabilitation, moderate rehabilitation, refinance, and acquisition.  We also specialize in affordable housing involving low income housing tax credits and tax-exempt housing bonds.