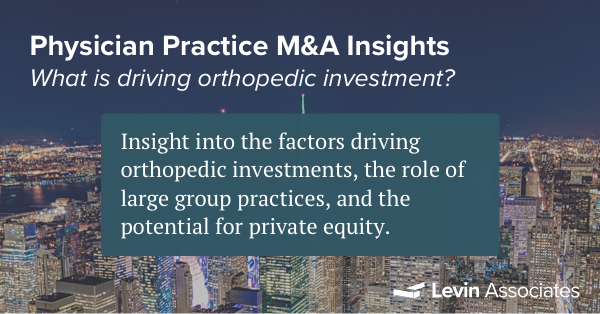 Orthopedic consolidation is trending as practices are highly attractive targets for investors, especially private equity-backed platforms that are looking to expand. However, it can be a challenging sector to access – in part because orthopedic groups have consolidated quickly and grown significantly larger compared to other specialties like fertility and cardiology.
Orthopedic physicians treat a wide variety of common conditions
Most people would agree that their ability to move their bodies whenever they please is very important to their quality of life. Orthopedic physicians provide the surgical and nonsurgical care that people of all ages and lifestyles need to maintain their mobility.
Orthopedic physicians treat patients for a range of issues affecting their musculoskeletal system, including:
Broken or fractured bones
Soft tissue injuries that cause pain, swelling, or bruising
Sports injuries, including strains and sprains
Arthritis and osteoporosis
They also perform surgeries such as:
Total hip, knee, ankle, and shoulder replacement
Spinal procedures like spinal fusion and laminectomy
Carpal tunnel release and other hand surgeries
According to Definitive Healthcare, there are more than 24,000 orthopedic surgeons currently practicing in the United States. Statistics suggest physicians in this specialty will face increasing patient demand in the years ahead. Census Bureau data estimates that by 2030, Americans older than 65 will account for about 21% of the population – and this group tends to require orthopedic care.
Plus: It's estimated more than 25% of U.S. adults will be diagnosed with arthritis by 2040, according to data reported by the CDC. The National Institute on Aging says osteoporosis affects 1 in 5 women older than 50. Nearly three-quarters of Americans are overweight; extra pounds place excess pressure on the joints and can cause pain and stiffness, as explained by Bryn Medical.
Orthopedics is a diverse and lucrative specialty.
Orthopedic surgeons often have the opportunity to provide the care that a patient needs from the moment of injury through the entire recovery process. As the Kaiser Family Foundation wrote, orthopedic practices are a "tantalizing line of business" because they can provide a "lucrative array of service lines."
"From an investor standpoint, there's a wide range of services that can be offered to provide holistic care for a patient" explained Abe M'Bodj, a Director at Westcove Partners. "Take a sports medicine practice, for example, caring for an athlete who hurts their knee and ends up needing surgery to repair their ACL."
The orthopedist is not only responsible for performing the surgery, M'Bodj continued. "There's the diagnostic imaging, the months of physical therapy, and potentially chronic pain management. Orthopedic practices that invest in their ancillary service offerings can provide the full spectrum of care, which has been a driving feature for why orthopedics is such an attractive private equity investment."
M'Bodj added, "Orthopedics is probably about 10 years ahead of cardiology in terms of the shift to outpatient care. Procedures historically only done in hospitals can now be done in the outpatient setting."
The Centers for Medicare and Medicaid Services (CMS) made two changes in recent years that further accelerated this trend: In 2020, CMS added total knee arthroplasty (TKA) to the list of reimbursable procedures that could be performed in an ambulatory surgery center. Eleven more procedures, including total hip replacements, were added to the list in 2021.
CMS explained in its ruling that "due to advancements in clinical practice, less invasive techniques, patient selection, improved perioperative anesthesia, alternative postoperative pain management and expedited rehabilitation protocols, these procedures can be safely and effectively performed for Medicare beneficiaries in the ASC setting."
It's common for orthopedic groups to own these outpatient facilities, as well. Journal of Spine Surgery reported in 2019 that the "majority of ASCs are still solely owned by physicians." According to market research published by Becker's ASC Review, physicians owned 64% of ASCs as of 2020. In addition, as of early 2022, orthopedics had the highest average net revenue per case at ASCs ($3,791) with gynecology, podiatry, urology and otolaryngology rounding out the top five.
"It is common for orthopedic physicians to own ambulatory surgery centers. Moreover, a goodly amount of orthopedic doctors also own interests in standalone orthopedic hospitals," Roger Strode, a partner and health care M&A lawyer at Foley & Lardner LLP. "In those instances, physicians can leverage their practices because when a case is done in a freestanding facility two fees are paid for the procedure – the physician fee and the facility fee. In addition, many of these physician groups have ancillary service lines such as imaging and physical therapy, all of which add leverage."
Orthopedic consolidation has often involved mergers between private practices.
Independence is a common trait in the orthopedic sector. According to the American Academy of Orthopaedic Surgeons, as of 2021:
48% of orthopedic surgeons work in the private practice setting (compared to fewer than 25% of cardiologists, per the American College of Cardiology)
12% work in solo practice
36% are part of a group
51% of group practices employ 10 surgeons or fewer
As the Journal of Arthroplasty reported in 2021, "orthopedic surgeon practices, like other provider types, have consolidated at a rapid rate over the past decade." Much of the orthopedic consolidation has been among physician groups who have decided to team up.
Some of the largest orthopedic groups in the United States, many of them with more than 100 physicians, are independent practices, according to this list from Becker's Spine Review. The list includes groups like Rothman Orthopaedics, the Illinois Bone & Joint Institute, and OrthoLoneStar. In February 2023, Proliance Surgeons (WA), OrthoIndy (IN), and EmergeOrtho (NC) announced the formation of PELTO Health Partners. Whether for the long-term or as an interim step to better position PELTO for an eventual acquisition, the company stated goal was to create "an independent movement by physicians to promote value-based care without capital from external sources."
"Orthopedic surgeons and spine surgeons are often very independent people, and many of them also tend to be very good business people," Strode remarked. "They have been able to build a lot of leverage by investing in orthopedic hospitals, ASCs, and by putting imaging services and physical therapy in their offices."
"So for groups with any significant size, with all this leverage, the attitude often is: 'I already own all these things and I'm already making a lot of money, so why would I need to sell to private equity investors? What's in it for me?'" Strode continued. "That's why I think orthopedics is the specialty that has been the latest to adapt to the idea of private equity investment." Strode wrote in a separate article that mergers between independent groups have likely been "an attempt to ward off health systems and PE sponsors seeking to acquire the involved groups."
What is private equity's role in orthopedics?
However, private equity does have a foothold in the orthopedic market. According to Levin Associates' proprietary platform tracking mergers and acquisitions in the healthcare industry in real-time, about half of the deals announced since 2012 have involved private equity.
John Tiedmann, Jr, who primarily works with physician groups in his role as a Director and senior member of Brown Gibbons Lang & Company's healthcare and life sciences investment banking team, said that for some in private equity, large orthopedic groups are ready-built assets.
"Orthopedics is different because you have big groups that could already serve as substantial platforms, which has allowed for pretty significant transaction activity," Tiedmann explained.
"Some private equity firms will say, 'look, I just can't do the strategy where I buy four or five tiny groups, roll up my sleeves, and try to create a platform.' They're just not in that business. But they didn't have to do that in orthopedics."
At the same time, Tiedmann added, "orthopedics is a specialty that is ripe with opportunity to take smaller groups, tuck them into a sophisticated platform, and create a lot of value."
Strode echoed that for solo orthopedic physicians or for smaller groups, private equity may represent a chance to grow their business. "Physicians not only get cash upfront when they partner with PE, but they also get rollover equity in the MSO that buys the practice, and that can be appealing."
The future of investment in orthopedics
According to Strode, orthopedic practices have traded for double-digit multiples of EBITDA in recent years. Platform-size practices that own facilities and ancillary services are more likely to trade for higher prices.
Both Strode and Tiedmann agreed that while there is an investment opportunity in targeting smaller practices, it's unclear what happens next for the larger orthopedic groups that have dozens or even 100+ physicians.
"Some of these groups are already so big that it makes you wonder who the next buyer will be," Tiedmann said. "It's a lot easier to acquire a practice with 5, 10, or 20 doctors. But a group with hundreds of orthopedic surgeons? That's a big check you have to write for something like that."
Erin Laviola is a writer for Levin Associates.
Levin Associates provides comprehensive coverage of the deals, companies, and trends shaping the healthcare industry. Clients access proprietary M&A transaction data and daily news/analysis through the LevinPro platform. Schedule a demo today to see what LevinPro can do for your team.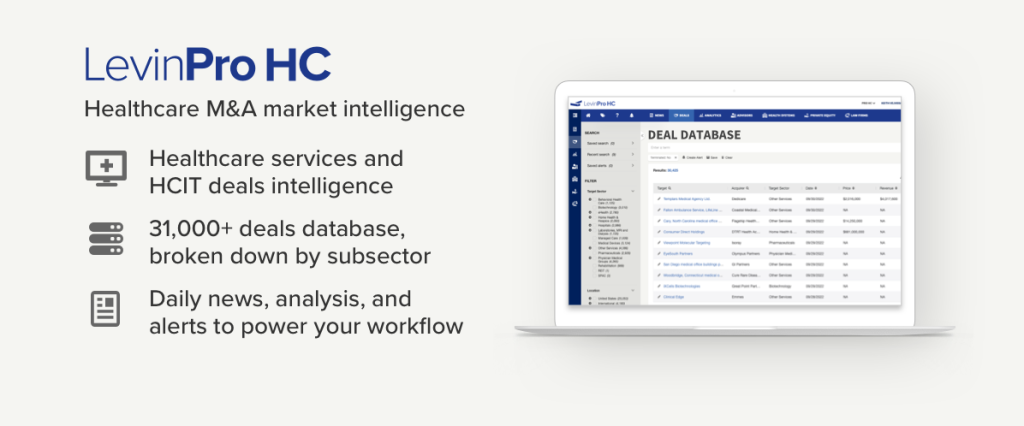 © 2023 Irving Levin Associates, LLC. All rights reserved.