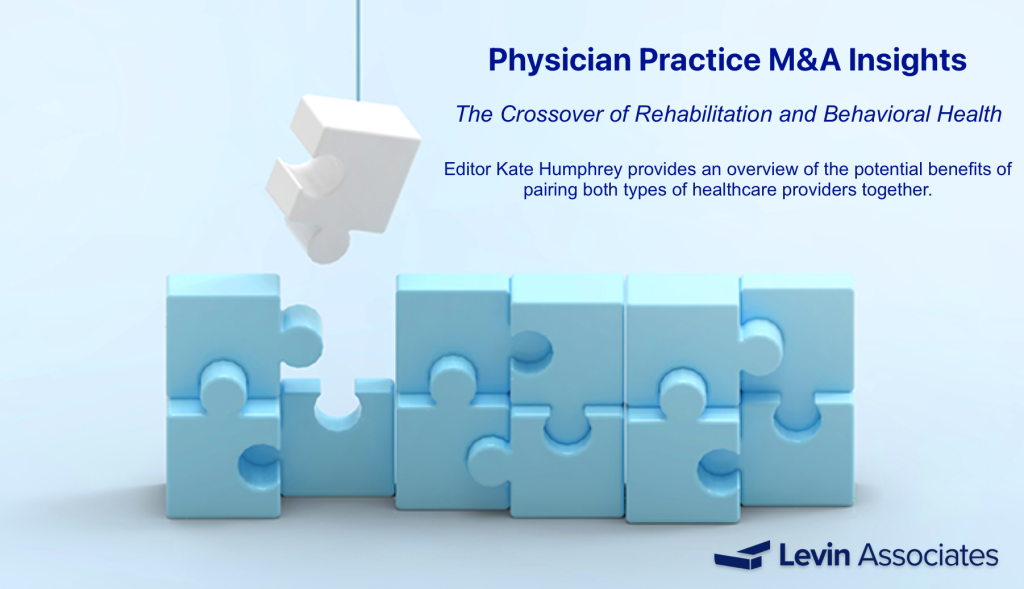 Traditionally, Behavioral Health Care (BHC) and Rehabilitation have been seen as two separate healthcare sectors with little overlap, but, in the wake of both COVID-19 and the third wave of the opioid crisis, that may (and should) change as more companies discover the potential benefits of pairing both types of healthcare providers together. To get a thorough understanding of each market, we need to define the sectors and what type of care is provided. Rehabilitation provides services related to physical therapy for sports injuries, brain damage accidents, post-acute care physical rehabilitation and work-place injuries. Behavioral Health Care consists of providers that focus on treating mental health. This includes substance use, autism, intellectual/development disabilities, eating disorders, inpatient behavioral health hospitals and general counseling. Rehabilitation and Behavioral Health Care frequently go hand in hand when treating patients as the care often overlaps.
We've compiled M&A statistics from our LevinPro HC database to help illustrate the ebb and flows of investor interest in both markets due to factors such as COVID-19 and the opioid epidemic.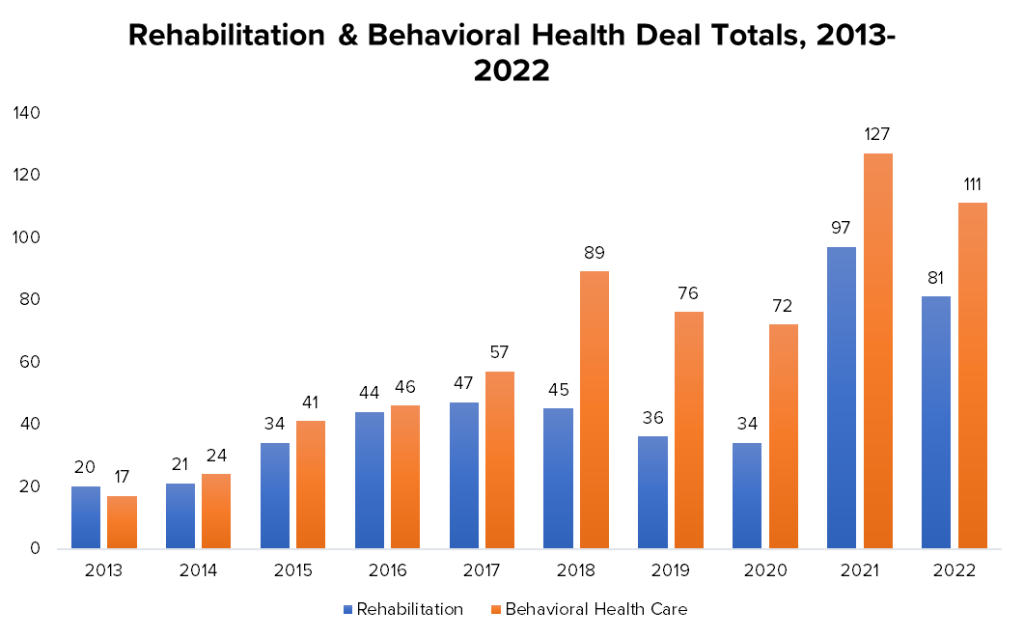 Source: LevinPro HC
Between 2003 and 2014, the total Behavioral Health Care transactions each year averaged 17 deals. In 2015, deal volume started to tick upwards with 41 acquisitions, followed by 46 in 2016. Continuing to escalate for the next few years due to the increasing number of people insured through the Patient Protection and Affordable Care Act in 2017 there were 57 Behavioral Health Care transactions and 89 in 2018. There was a slight dip in 2019 when 76 acquisitions were reported and 72 were announced in 2020. Yet, due to the pandemic heightening the need for mental health counseling, the deal volume in 2021 and 2022 skyrocketed to 127 and 112 transactions, respectively. For the first six months of 2023, 43 Behavioral Health Care transactions have been announced, which has been on the slower side and might indicate investor interest is cooling in the wake of soaring capital costs and other factors.
Private equity have been the most active investors in the behavioral health market, with 59% (92 transactions) of the 156 Behavioral Health Care transactions announced between January 1, 2022, and July 31, 2023. Representing the most active buyer is ARC Health, a portfolio company of Thurston Group, announced 12 acquisitions. Other active private equity groups include Webster Equity Partners (10 deals), Five Arrows Capital Partners (five deals) and Shore Capital Partners (four deals). The second largest type of buyer was other behavioral health companies, such as Acadia Healthcare Company, Inc., representing approximately 24% with 37 transactions.

*=Deal totals include M&A activity from portfolio companies
Source: LevinPro HC
In contrast to Behavioral Health Care activity, Rehabilitation's deal volume stayed more consistent as the sector was not impacted by the opioid crisis in the same way that Behavioral Health Care was. Between 2003 and 2014, the Rehabilitation deal total averaged 14 transactions each year. In 2015, the deal total jumped to 34 transactions and continued to increase into 2016 and 2017 with 44 and 47 transactions, respectively. Then, in 2018, deal volume began a short-lived decline with 45 acquisitions, as 'mega deals' (deals with multiple acquisitions at one time) became more popular, followed by 36 in 2019 and 34 in 2020. The most significant jump in deal volume occurred in 2021 when 97 deals were reported. This higher-than-average total carried on in 2022 when 81 acquisitions were announced. In the first six months of 2023, 28 Rehabilitation deals were reported.
As it does in Behavioral Health Care, private equity represented a large portion of the Rehabilitation transactions between January 1, 2022, and July 31, 2023, with 64 out of 109 transactions, or 41%. The most active buyer for Rehabilitation was Partner Group's Confluent Health with nine transactions. Waud Capital Partners was also active with eight transactions and Revelstoke Capital Partners announced six acquisitions. Other companies in the Rehabilitation market account for 34 transactions, or 31% between January 1, 2022, and July 31, 2023. However, Rehabilitation's most active buyer that was not backed by a private equity firm was U.S. Physical Therapy, totaling eight deals. U.S. Physical Therapy is one of the few buyers in the Rehabilitation space that are publicly traded and the only publicly traded company in the last 18 months that has completed more than one transaction.
Market Overview
A unique force pushing on the two markets is the opioid crisis, as well as the COVID-19 pandemic. The opioid crisis began in the 1990s when doctors began over-prescribing opioids because of criticism that they were not providing adequate pain relief medication in fear of patients becoming addicted. In turn, this caused patients to also begin self-medicating. The most recent wave of the crisis began sometime in the early to mid 2010's, between 2013 or 2014 with a flux of overdoses involving synthetic opioids, particularly fentanyl. This wave of the epidemic can be seen in the statistics shown earlier as that is around the time that both behavioral health and rehabilitation increased in deal volume.
In July 2023, the National Library of Medicine (NLM) reported that more than three million Americans and 16 million people worldwide suffer from opioid use disorder. The Mayo Clinic cited, in 2022, that using opioids for just five days increases one's risk of becoming addicted and increases the chance that a year later, patients will still be using opioids. In 2017, the Department of Health and Human Services declared the opioid crisis to be a public health emergency.
The NLM also noted that the usage of opioids to treat benign conditions such as musculoskeletal and rheumatologic conditions has increased over the past several decades. Musculoskeletal conditions, which are characterized by persistent pain and limited mobility, often lead to opioid use and, can, lead to non-fatal overdoses.
Opioids, and other painkillers, are a short-term fix while rehabilitation and addressing patients' mental health is a long-term solution. Unfortunately, opioids are seen by many as a long-term solution because of their strong and overarching impact in dealing with pain.
COVID-19 had a profound impact on society. It brought intense loneliness, job insecurity and mental health struggles to the forefront of many people's lives. With that, the pandemic also impacted the Rehabilitation and Behavioral Health Care markets with an increased demand.
In addition to rising substance use disorder treatments, other Behavioral Health Care specialties have increased over the last few years. Counseling, for instance, increased significantly from 2019 to 2022, from three transactions to 17 due to the increase in demand from the COVID-19 pandemic.
On the other hand, the autism and intellectual and developmental disorders specialties fluctuated between 2022 and 2022, yet, overall, declined slightly. In 2019, there were a combined 36 transactions and in 2022 there were 22 acquisitions. On its own, the autism subsector fell from the 30 transactions seen in 2019 to the 15 transactions reported in 2022. This is due to the impact of COVID-19 on providers.
The American Psychological Association reported that due to stress, anxiety and depression brought on by COVID-19, 13% of Americans reported starting or increased substance to cope, as of June 2020. In the early months of the pandemic, there was an 18% increase of overdoses compared to the same months of 2019. Roughly 90% of alcoholics relapse and 91% of opioid users relapse, with 54% relapsing in one week.
In the wake of the pandemic, the use of telehealth exploded within the Behavioral Health Care space as it allowed patients to receive mental health care without compromising their physical health. According to our data, in 2020, there were 32 transactions in the telehealth space, a 33% increase from 2019 when 24 were reported. But, in 2021, there was a major increase to 68 transactions, showing how investors took a greater interest in the industry, knowing just how in demand it was. The flexibility of telehealth contributed to the high deal volume numbers seen in the Behavioral Health Care sector.
The growth in the Rehabilitation space and its high deal volume comes from the fact that more than 55.8 million Americans were 65 years or older in 2020. In 2023, that number dropped to approximately 55.7 million Americans, but that can be attributed to the high mortality rate COVID-19 had on the older demographics.
But the need for physical therapy will always be persistent in older patients simply because aging bodies need more care. In fact, 31% of people seeking out physical therapy are 65 years old or older, according to the Academy of Education.
Insurance and Licenses
Another facet of the sectors to look at is insurance coverage, and the different types of licenses. These are important because they contribute to why there has not been a significant crossover between the sectors. When merging two different types of practices, companies also must merge different licenses and reimbursement models. Companies could be hesitant to do so because the merging process is challenging and there are a plethora of factors to consider when ensuring everything is billed properly.
For physical therapy, on average across the United States, the cost of one session can range from to $20-$60 with insurance. But, without insurance, the patient can pay anywhere between $50-$155 per session. If a patient seeks physical therapy twice a week, that could potentially be more than $300 a week if paid out-of-pocket.
According to AddictionCenter.com, a 30-day program at a behavioral health care inpatient center can cost anywhere from $6,000 to $20,000. If a 60- or 90-day treatment is needed, the average cost can balloon from $12,000 to $60,000. This is all before insurance is factored in, but, from the high costs, it is possible that some patients would be deterred as they simply cannot afford to shell out thousands of dollars, no matter how essential the care is.
One of the issues that many patients face when seeking behavioral health and rehabilitation is insurance not covering the care, or only partially covering if deemed medically necessary. Care can even be cut short if the insurance provider, who does not see patients on a regular basis, perceives the patient to no longer need the services sought out.
To be a physical therapist, one must complete an undergraduate degree, followed by a Doctor of Physical Therapy and pass the National Physical Therapy Examination, which is a state licensing exam. This process typically takes three years.
In contrast, to be a provider of mental health services is much less straightforward as there are a plethora of different paths. Typically, the path includes a bachelor's degree, followed by master's degree in psychology, social work or a similar field and passing state licensing exams. The process can be lengthened even more if a provider wishes to become a psychiatrist as that requires medical school, but that is not needed for all licensed professionals.
Yet, while the different insurance coverage and licenses needed to operate such facilities can be different, that shouldn't deter companies from buying both Rehabilitation and Behavioral Health Care facilities. In the long run, it's better.
Case Studies
Between January 1, 2022, and July 31, 2023, the crossover between Rehabilitation and Behavioral Health Care has not shown up significantly in the statistics. Most deals done in the Behavioral Health Care sector were completed by Behavioral Health Care companies, and the same goes for Rehabilitation.
However, several companies have begun to find investment opportunities by crossing into different markets. In 2022, Apposite Capital's portfolio company, HCML purchased Healthcare RM, an employee health risk management specialist.
HCML is a service provider in the rehabilitation and case management arena. It specializes in providing treatment services to the insurance industry, the corporate and public sectors. It assists injured and sick patients to recover and return to work, or their pre-injury condition.
While Healthcare RM does not provide traditional behavioral health services in the form of a clinic or hospital, it addresses the need for workplace counseling. According to the press release, this acquisition allowed HCML to "provide a more comprehensive range of healthcare services, including an integrated and holistic approach to most aspects of workforce health and wellbeing."
Nick Delaney, CEO of HCML, had this to say.
"Increasingly, this market is moving away from traditional reactive occupational health solutions and looking for 'whole of workforce' data-driven preventative engagement with employees."
By acquiring Healthcare RM, HCML is branching out from providing Rehabilitation care and serving a larger demographic.
Also in 2022, Ivy Rehab, a portfolio company of Waud Capital, made several purchases that are of note. The company acquired both Elgin Pediatric Therapy Inc. and Coastal Behavior Consulting, expanding its presence in Illinois and Virginia.
Elgin Pediatric Therapy provides physical, occupational and feeding therapy, as well as applied behavior analysis (ABA) services to children with intellectual and developmental disabilities. Coastal Behavior Consulting also provides ABA services to children with Autism and, per the press release, is the first company to partner with Ivy Rehab in Virginia that offers those services. ABA is a therapy that helps children with autism learn skills and lessen 'problematic' behavior.
While Ivy Rehab has remained active in 2023, its 2022 acquisitions of Elgin Pediatric Therapy (which was done through Ivy's subsidiary Ivy Rehab for Kids) and Coastal Behavior Consulting are the only times, so far, when the company dipped its toes into behavioral health, rounding out its capabilities. This indicates that Ivy Rehab saw the overlap of the two sectors and knows how important providing a full spectrum of care is, whether it's in rehabilitation or behavioral health.
These two transactions are shortly followed by Ivy's announcement that it was partnering with the Theraplay Family of Companies to become the nation's largest outpatient pediatric rehabilitation provider. Due to the partnership, Ivy expanded its network to more than 420 clinics, including almost 100 pediatric-focused clinics.
While this partnership is not directly related to Ivy Rehab's expansion into Behavioral Health Care, it shows how Ivy Rehab was bolstering its pediatric network and diversifying its portfolio. Following Ivy Rehab's example, more companies should be branching out beyond the services they traditionally offer to draw in a larger patient pool and cater to a larger patient base.
Conclusion
But all of this begs the question of why hasn't there been more of a crossover in the past? Afterall, if the two industries provide similar services and have a common goal, there should be much more interaction between the two.
There has been considerable criticism regarding private equity and non-healthcare corporations controlling a large portion of the industries. Many of the criticisms against private equity in Behavioral Health Care and Rehabilitation are like any criticism for PE in healthcare in general; it drives up costs, favors profits over quality of care and what benefits the patient doesn't benefit the company. But that isn't always the case.
Healthcare companies are increasingly getting compensated more and more based on the quality of care they provide so it only makes sense for them to want to provide the highest quality of care possible. This means more opportunities for increased profit and an increased patient base. But it also would allow them to cater to different and changing demographics and better handle reimbursement tailwinds. All in all, until more Behavioral Health Care and Rehabilitation providers team up, there's a missed opportunity for providing the highest quality of care.
Kate Humphrey is a writer for Levin Associates.
Levin Associates provides comprehensive coverage of the deals, companies, and trends shaping the healthcare industry. Clients have access to proprietary M&A transaction data and daily news & analysis through the LevinPro platform.

Schedule a demo today to see what LevinPro can do for your team.