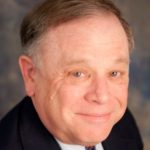 Managing Principal, HJ Sims
William Sims is nationally known for his expertise in the senior living industry, where he has overseen the financing of hundreds of projects since he joined the firm in 1973. His expertise also includes mergers and acquisitions as well as the restructuring and refinancing of distressed properties. Mr. Sims has been a guest speaker at dozens of investment seminars and is the author of numerous articles.
Over the past 40 years he has lived through the ups and downs of various segments of the industry and has valuable insight into the planning for future success of senior living providers. He is the Immediate Past Chairperson of the Board of Directors of a non-profit senior living organization. Mr. Sims was honored by Aging in America Inc. in 2005 and by The Miriam Osborn Memorial Home Association in 2008 for his contributions to senior living.
Prior to joining HJ Sims, Mr. Sims worked in the bond department of Merrill Lynch where he served as a liaison between the branch offices nationwide and the underwriting and trading departments in New York City.
Mr. Sims graduated from the Hotchkiss School and received his Bachelor of Arts degree from Yale University. He attended the Stanford University Graduate School of Business and earned his Masters of Business Administration degree from New York University.