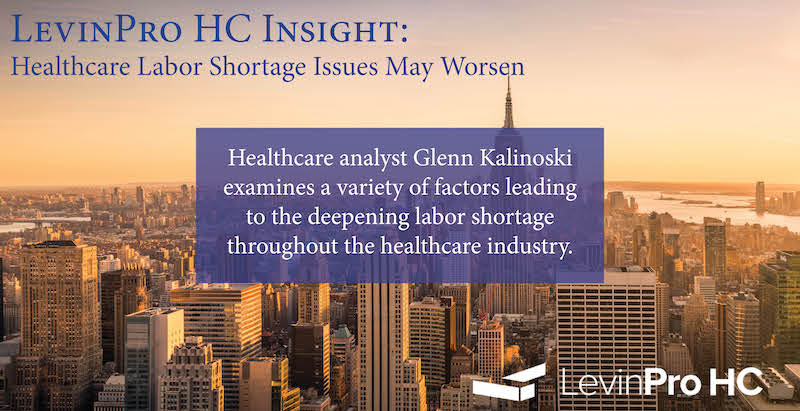 The severe healthcare labor shortage has been attributed to numerous factors. Job burnout, retirements and the impact of the COVID-19 pandemic are all well-known factors contributing to the crisis that is only expected to get worse.
However, one factor has gotten virtually no attention: the certifications, qualifications and education needed for healthcare careers are not available for many due to a lack of instructors. Consider the situation at nursing schools.
Universities' role in the healthcare labor shortage
An American Association of Colleges of Nursing report revealed U.S. nursing schools turned away 91,938 qualified applicants for undergraduate and graduate nursing programs in 2021, primarily due to a lack of faculty and clinical training sites. An AACN survey from October 2022 revealed 2,166 full-time faculty vacancies at nursing schools. In addition to the need to fill the vacancies, the nursing schools also identified the need to create an additional 128 faculty positions to meet rising student demand.
"There is a demand coming out of the pandemic that continues for healthcare labor and staffing and that is predicted by many to continue to rise over the coming years," said Alison Flynn Gaffney, the president of JLL's Healthcare Solutions business. "This is, in part, due to the critical departure from the industry seen most significantly within the nursing, technician and provider sectors. Many hospitals and healthcare entities continue to be challenged to retain and recruit while navigating higher acuity patients."
Academic health centers are also on the frontline of the healthcare labor shortage.
Based on a questionnaire of Association of Academic Health Centers members (the CEOs of academic health centers in the U.S.) 94% of CEOs believe faculty shortages are a problem in at least one health professions school, and 69% think the shortages are problematic for the entire institution.
Academic health centers train a significant percentage of the health workforce in specialties such as allied health, dentistry, medicine, nursing, pharmacy, public health and veterinary medicine. The AAHC concludes that without enough faculty members to teach the next generation of healthcare professionals, the nation's health infrastructure is in jeopardy.
Faculty shortages in nursing were rated as the most severe, with 81% of CEOs declaring them to be a problem, including 45% who rate nursing faculty shortages as "very much a problem."
"Due to the shortages, there is a greater investment happening into the building of nursing programs and/or schools as an example," Gaffney said. "Many systems are focusing on creating and operating their own internal certification and experience programs by investing in their existing team members and creating opportunities for learning and advancement. Technicians within the imaging disciplines is a common area for that type of investment along with partnering with high schools and colleges and universities earlier on in an individual education pathway to bring forward the varying employment opportunities within a healthcare environment.
"What is happening today is not a decline of standards or hiring of talent. There is a movement within the industry to look at all aspects of someone's lived experiences: educational, personal and professional."
Gaffney cited an example of a high school graduate unable to pursue a secondary education. However, this individual worked in a customer service environment for two or more years. That individual can be a candidate for a patient services representative or admitting department professional. Another example could be a high school or college graduate, not in a healthcare clinical discipline, who joins an organization in a role within a clinical department to gain experience and then enters an internal training program to become a surgical technician.
Burnout is spreading
Other data reveal that 77% of CEOs said the healthcare labor shortage is a problem in allied health, 71% in pharmacy, 70% in medicine, 67% in dentistry and 55% in schools of public health.
The situation has included what many Americans would view as unthinkable: healthcare workers walking off the job.
"While the healthcare sector continues to recover from the effects of the COVID-19 pandemic, we have noticed an increase in healthcare worker strikes in an attempt to command higher wages and improve what has frequently been described as suboptimal staffing conditions," said Kevin Moyer, practice lead, transaction strategy & transformation at SAX Capital Advisors in New York.
Moyer's firm has worked on large institutional deals for public companies and large sponsor-backed firms in several healthcare verticals.
"These staffing conditions, which many argue are relatively similar to the height of the pandemic, are creating prolonged employee burnout," Moyer said. "We have noticed this most widely in the nursing profession where the expected demand rate is anticipated to grow by [approximately] 10% by 2031. As existing nurse turnover increases, there will be more pressure on providers to recruit younger professionals or career changers into the field. However, with the cost and time required to obtain the necessary clinical hours and licensure, it will be an uphill battle to generate enough supply to both meet existing demand and that which is projected."
Demographics apply added pressure
Oracle's "The Shortage of US Healthcare Workers in 2023" details the harsh reality of healthcare labor shortages and the impact on an aging population.
It cited the fact that The American Hospital Association estimates that there will be a shortage of up to 124,000 physicians by 2033. And there will be a need to hire at least 200,000 nurses a year to meet rising demands. Among support personnel, a shortage of home health aides is most acute. Another study projects that if U.S. workforce trends continue, more than 6.5 million healthcare professionals will permanently leave their positions by 2026, while only 1.9 million will step in to replace them, leaving a national industry shortage of more than 4 million workers.
"Hospitals are navigating a difficult operating environment," said Rex Burgdorfer, partner at Chicago-based Juniper Advisory, which is a specialized investment banking firm that focuses exclusively on hospital system mergers and acquisitions. "Revenues are declining, costs are growing and margins compressing. An overreliance on temporary or traveling staff and the headwinds of inflation are testing the overall system."
Fort Myers Florida-based Mertz Taggart, a healthcare M&A firm, focuses on the care-at-home (home health, home care, hospice) and behavioral health (mental health, addiction treatment, eating disorder) sectors. Managing Partner Cory Mertzsaidboth verticals have experienced staffing challenges.
"[Regarding the] care-at-home side … wage inflation on the skilled side, combined with fixed government reimbursement which hasn't adequately compensated for said wage inflation, has squeezed both home health and hospice providers," Mertz said. "We are seeing record referral rejections simply because agencies can't staff. These pressures are exacerbated by increased Medicare advantage penetration, at significantly lower reimbursement than traditional Medicare, especially in the larger metro areas.
"For non-medical home care, where agencies have been competing with other minimum wage-type job opportunities, caregiver staffing has overwhelmingly been the governor to growth across the board. We are seeing relief for the government-sponsored, non-medical home care providers, as the federal government funnels more money towards these services in its efforts to keep the elderly and disabled at home."
Which specialties are the most impacted?
The Oracle report revealed that physician shortages differ by specialty. The biggest shortfalls tend to be in fields where compensation levels are relatively low as the demands of the job are high. Infectious disease physicians, primary care doctors and pediatricians tend to make less money and work longer, less predictable hours than dermatologists, radiologists and plastic surgeons, and are in shorter supply relative to demand, explains Dr. James Willig, a physician who specializes in infectious diseases and clinical informatics at the University of Alabama at Birmingham.
The aging population is overwhelming the number of cardiologists, orthopedic and vascular surgeons, neurologists, rheumatologists, pulmonologists and other geriatric specialists, many of whom are aging out of their professions. McKinsey predicts the U.S. could see a healthcare labor shortage of 200,000 to 450,000 registered nurses available for direct patient care by 2025. In its March 2022 "Frontline Workforce Survey," 29% of RN respondents indicated they were likely to leave their role providing direct patient care, and of those, 15% said they intended to leave the profession entirely.
Many nurses are reconsidering the profession because of burnout and/or insufficient pay. Others are moving on to seek career opportunities in new or related fields, such as consulting, insurance, teaching or human resources.
"Registered nurses are in great demand but appear to be shifting away from the frontline of the hospital systems and are either transitioning to a traveling nurse role or into specialty areas, such as primary care or therapy-related facilities," Moyer said. "In recent years, during and post-pandemic, hospitals experienced staff shortages due to high patient volumes. In an attempt to maintain care quality in pre-pandemic status quo, additional staff were hired nationally. The demand exacerbated by the healthcare labor shortage increased staff hirings and income, increasing significantly the locums positions [the "traveling RN"], leaving staff RNs feeling underpaid and undervalued, causing an exponentially growing exodus from the field."
The National Council of State Boards of Nursing reported in its "2022 National Nursing Workforce Study" that:
Approximately 100,000 registered nurses and 34,000 licensed practical and vocational nurses left the workforce during the COVID-19 pandemic due to stress, burnout and retirements.
Looking ahead, 800,000 RNs and 184,000 LPNs/LVNs indicate they are likely to leave nursing by 2027.
About one-fifth of RNs are projected to leave the healthcare profession.
Also, 62% reported an increase in workload during the pandemic.
Nurses reported feeling emotionally drained (50.8%), used up (56.4%), fatigued (49.7%), burned out (45.1%) or at the end of their rope (29.4%) "a few times a week" or "every day."
These issues were most significant with nurses who have 10 or fewer years of experience, driving a 3.3% decline in the U.S. nursing workforce during the past two years.
Licensed practical/vocational nurses, who generally work in long-term care settings caring for the most vulnerable populations, have seen their ranks decline by 33,811 since the beginning of the pandemic.
"Nursing, technicians, physicians, pharmacists are all suffering shortages, along with other clinical and non-clinical team members," Gaffney said. "When a hospital or healthcare entity does not have the appropriate staffing levels or caliber of team members qualified to perform their jobs, the risk increases exponentially as does cost. Surgeries and procedures can be delayed, testing not performed timely, units reduced in open bed size or closed due to lack of staff are a few outcomes.
"Acute, ambulatory and non-acute care settings primarily have the same challenges. Competition is real within healthcare and now more than ever before across other industries. When a retailer is paying significantly above a starting wage for a healthcare environment, the coemption expands for support service roles and other departments … that are critical to the 24/7/365 safe operation of a healthcare environment."
Did we peak in 2022?
The worsening situation regarding healthcare staffing coincides with a decline in M&A activity in numerous sectors. According to data captured in the LevinPro HC database, healthcare M&A activity may have peaked in 2022.
The all-time high of 2,441 transactions in 2022, driven by massive activity in the labor-intense healthcare service sectors, followed 2,245 deals in 2021, 1,350 in 2020 and 1,413 in 2019. On a quarterly basis, deal activity peaked in the fourth quarter of 2021 with 651 transactions, followed by 649 in the first quarter of 2022.
However, through the end of July, there were 1,299 transactions posted in 2023 compared with 1,481 during the same period in 2022, representing a 12% decline. Some sectors have seen an even greater decline compared with the overall average in health care. There were 52 Behavioral Health Care deals during the first seven months of 2022, dropping to 31 transactions during the same period this year, representing a 40% drop. The sharp rise in capital costs affected M&A activity as well, but more expensive debt also forced investors to reconsider acquisitions in sectors that require more staffing or are going through healthcare labor shortages.
"Those companies that have an advantage in recruiting and retaining clinicians and caregivers will always be looked at more favorably, especially in this environment," Mertz said. "In the more established industries (home health and hospice), we expect a slow year. On the behavioral side, we'll also see a slowdown, for similar reasons, as we revert back to the mean after a record M&A transaction period. However, the slowdown won't be as significant. This is primarily due to the overall acceleration of the industry, including a disproportionate number of fast-growing companies, which is hard to replicate in the more mature industries.
"The one area that we'll see the biggest hit will be in the VC-backed behavioral transactions. The [failure of] SVB [Silicon Valley Bank] has hit VC funding significantly more than it has private equity."
Reasons for optimism…
However, some industry veterans remain bullish regarding healthcare M&A activity despite the comparably slow start to 2023.
"It has become the norm for fiduciary boards to consider, as part of strategic planning efforts, merger and acquisition alternatives," Burgdorfer said. "In the past, entering into business combinations was a sign of weakness, whereas today, merger participants are larger, stronger and more forward looking."
Moyer sees strong M&A demand going forward. "The impact on M&A activity in the healthcare sector is not related to staffing shortages," Moyer said. "If anything, a lack of staffing would be another reason to merge. The true drivers of the slowdown are higher interest rates, a lack of companies coming to market and overall economic uncertainty with respect to the recessionary pressures facing the U.S. economy."
M&A deals have remained close to last year's level in the Physician Medical Groups sector, with 322 transactions in the first seven months of 2023 compared with 349 in the same period of 2022. "Nearly every sector faces changes with M&A activity," Moyer said.
"Provider activity has continued to stay strong despite noise around political pressure. Managed care companies such as CVS/Aetna, UnitedHealth Group and Humana have traditionally been very active in M&A for a long period of time and making investments across numerous areas and we would expect that to continue.
"In the near-term we believe M&A strategies will stay very consistent with core practices with acquirors being more patient with capital and not 'reaching' on deals. Diligence is taking longer as a result of a lack of human capital along with acquirors ensuring that all of the financials and commercial trends are positive for the target. We believe that if interest rates decrease again in the coming years, there could be a strong potential spike in activity – especially on the private equity sale side."
Glenn Kalinoski is a writer for Levin Associates.

Levin Associates provides comprehensive coverage of the deals, companies, and trends shaping the healthcare industry. Clients access proprietary M&A transaction data and daily news/analysis through the LevinPro platform. Schedule a demo today to see what LevinPro can do for your team.