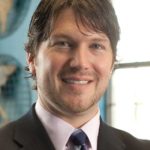 Founder & CEO, Mainstreet Property Group
Paul Ezekiel "Zeke" Turner, 35, is the Founder and CEO of Cicero, Ind.-based Mainstreet, one of the nation's most innovative health care developers, and the Chairman and CEO of HealthLease Properties REIT, a Toronto-based Real Estate Investment Trust.
Mr. Turner founded Mainstreet in 2002, when he was just 25 years old. Named to Inc. Magazine's list of the 500/5000 Fastest Growing Companies in America for the past three years, Mainstreet developments are Healthcare Resorts™, offering guests concierge-based health care in a hotel-like atmosphere. Mr. Turner and his team took HealthLease Properties REIT public with a $121 million offering on the Toronto Stock Exchange on June 20, 2012. Mainstreet holds an indirect interest in the REIT and is currently its largest shareholder.
Mainstreet's Next Generation™ designs include multiple social destinations, restaurant-style dining, spacious private rooms and baths, and oversized therapy/wellness areas. In addition to an active acquisition strategy, Mainstreet and HealthLease currently have a development pipeline for 2013 of more than 20 properties, representing over $500 million in new product development.
Prior to establishing Mainstreet, Mr. Turner worked on Wall Street with Citigroup Corporate and Investment Banking (formerly Salomon Smith Barney). With Citigroup, Mr. Turner worked in both the Latin America and Health Care groups in New York and in Mergers/Acquisitions in São Paulo, Brazil.
Mr. Turner has served on the Board of Directors for the Indiana Health Care Association (IHCA) and currently serves on the Board of Directors for the Indiana Family Institute, an organization dedicated to promoting strong families in Indiana. He is a member of Cicero Christian Church, the American Health Care Association (AHCA), the National Investment Center for the Seniors Housing and Care Industry (NIC) and the Urban Land Institute (ULI).
Mr. Turner graduated cum laude from Taylor University in Upland, Ind., earning a B.A. a degree in International Business and a B.S. degree in Business Administration/Systems, with additional concentrations in finance and economics and business administration/systems. He also played on Taylor's basketball and football teams. More recently, he completed courses at the Erickson School of Aging Studies at the University of Maryland, Baltimore County, studying finance/underwriting and real estate development.
Mr. Turner was born in Marion, Ind., in 1977. He and his wife, Milissa, have five children and live in Cicero, Ind. When time allows, Mr. Turner enjoys traveling with his family both domestically and internationally. To date, he has visited 38 different countries around the world.