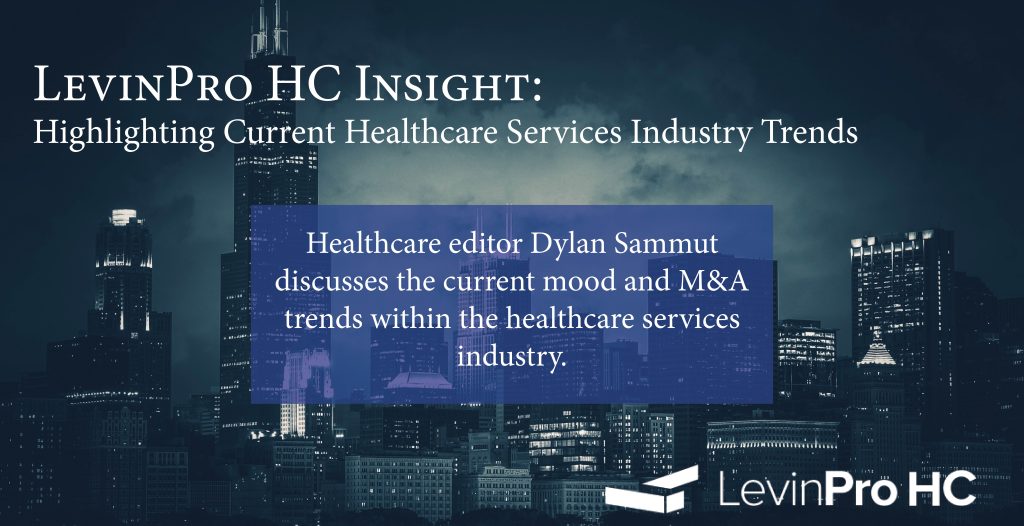 Last week, the LevinPro HC team attended The Healthcare Services Investment Conference hosted by DealFlow Events. It was held just outside Times Square in New York City and featured a wide variety of healthcare industry members, from sell-side advisors to healthcare service leaders to medical providers. There was a focus on healthcare services industry trends through the lens of both M&A and from an operational perspective (which has plenty of overlap, to be fair).
Healthcare services industry trends' impact on M&A activity
The event started with a presentation from Charlie Napolitano, Events & Marketing Manager at DealFlow Events. He offered plenty of commentary on the healthcare M&A market, and the trends and issues he outlined echo much of our coverage of the healthcare services industry trends, as seen in our recent quarterly report.
Mr. Napolitano noted that after a period of historic healthcare M&A activity in 2021 and 2022, driven by $1 trillion in private equity dry powder, low-interest rates and a highly fragmented market, deals have slowed significantly in 2023. And the numbers underscore Mr. Napolitano's comments.
Annualized data captured on LevinProHC shows we'll hit roughly 1,400 healthcare services deals in 2023, down 20% from the number of services transactions disclosed in 2022. Unless fourth-quarter activity accelerates, expect a significant decline in deals once we tally the final numbers in January for our upcoming annual report.
The main culprit for the slowdown? Mr. Napolitano cited the high cost of debt brought about by inflation and interest rate hikes from the Fed. Although major corporations in the healthcare M&A market have plenty of cash on hand, other providers and groups looking to expand have to rely on financing, making dealmaking precarious.
When we spoke to other attendees at the conference, they all expressed this same concern. If we had to guess, half the reason they attended the conference was to find new ways to navigate the challenging market and close deals.
Valuing healthcare services businesses in a down market
Although each panel and speaker at the conference provided a wealth of information, there was a speaker the LevinPro team wanted to highlight…
Len Friedman, who serves as the head of the Valuation and Litigation Support Services Practice at RRBB Advisors, LLC, offered a fantastic dive into how to maximize the value of a business during the selling process. He walked the room through the state of the M&A market and the influence private equity has had on the industry, especially in the physician space.
He also pointed out that this lack of overall activity has helped put downward pressure on valuations. With EBITDA multiples having taken a significant hit in 2023, compared to 2022, it's not always easy for sellers and buyers to come to terms.
Although he did not shy away from other industry headwinds, he expressed optimism in the dealmaking process. He noted that if an organization can show they have strong healthcare staff with little turnover, perpetual growth potential, a stable network of vendors and good brand recognition, plenty of buyers will be ready to make an offer. If we had to summarize the attitude at the conference, there was a sense of concern mixed with excitement. The industry might be in a rough patch right now, but there is enough opportunity for investors to be excited about the potential in the future.
Dylan Sammut is the Healthcare Editor at Levin Associates