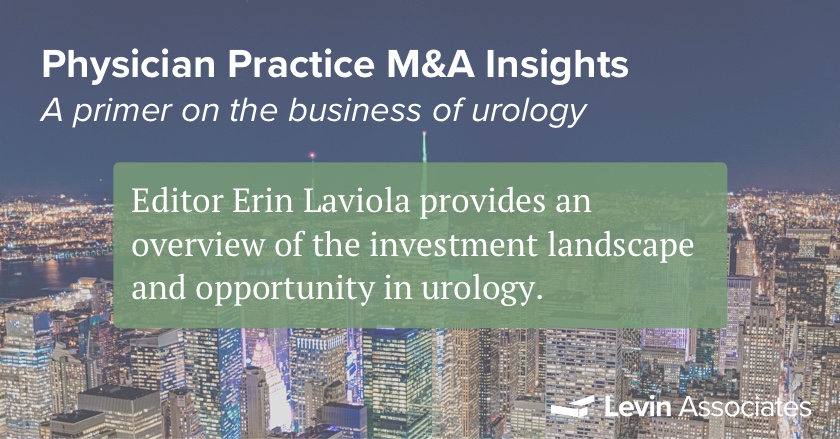 There is almost unlimited potential for financial growth in urology because of rising patient demand. "Urology is a surgical subspecialty where you can do very well as an investor," said Hector Torres, a managing director at DC Advisory.
However, urology has flown somewhat under the radar in recent years as excitement around other hot specialties like cardiology and orthopedics surged.
According to Levin Associates' proprietary platform, which tracks healthcare mergers and acquisitions in real-time, there have been 26 urology deals announced since January 2018. By comparison, in the same time frame, there have been nearly 200 deals involving dermatology practices, 100+ deals in orthopedics and gastroenterology, and 40+ in cardiology.
"It's not for lack of interest by the private equity community," explained John Tiedmann, a director and senior member of Brown Gibbons Lang & Company's healthcare and life sciences investment banking team. "It's for lack of interest by the urologist."
What is urology?
Urologists specialize in conditions affecting the urinary tract as well as diseases impacting the reproductive system. Conditions urologists treat include urinary tract infections, overactive bladder, kidney stones, erectile dysfunction, and prostate, bladder and kidney cancer.
America's aging population will significantly increase the demand for urologists over the next decade. As BGL noted in a recent report, more than 1 in 5 Americans will be older than 65 by 2030. Patients older than 65 use 3x more urological services than the general population, researchers say, accounting for nearly 65% of all urological care.
Why is urology an attractive investment?
Despite the relative lack of M&A activity, "urology is very popular amongst the investor community. Everybody wants to be in urology," Tiedmann said. "Investors love the specialty because it's fragmented and because it has all the bells and whistles that you see in any of the most ancillary-rich specialties."
Ancillary services that urologists can offer include:
Lab services
Radiation oncology
Chronic care management
In-office dispensary
Ultrasound
Clinical trials and clinical research
Ambulatory surgical centers (ASCs)
"We want to be able to provide the fullest array of services to patients in an integrated fashion," added Marshal Salomon, the CEO of Unio Health Partners. "Our ability to offer these ancillaries is a win-win for our patients and for our physician partners."
Plus: More than 60% of urological procedures are currently performed in ambulatory centers, according to the American Urological Association (AUA). Common examples of outpatient urology procedures include:
Cystoscopies
Ureteroscopies
Prostate biopsies
Kidney stone removal
Vasectomies
Investors also see consolidation opportunities. About half of the nation's practicing urologists work in private practice, and nearly 40% of independent practices have fewer than three urologists. According to the 2022 "State of the Urology Workforce and Practice in the United States" from the AUA, only 7.3% of urologists work in private equity-backed practices.
So, why haven't there been as many private equity investment deals in urology relative to other specialties?
Many investors moved on after missing the initial wave. There are six predominant platforms in urology:
Of the 26 urology deals announced since January 2018, these six platforms were involved in 21 of them.
"There was a ton of talk and prospecting from 2018 until the end of 2020. We were hearing private equity firms tell us they were looking for urology," Torres recalled.
"I call it the old private equity attention deficit disorder," Torres humorously noted. His theory is that investors who did not acquire any urology practices during this time frame moved on to orthopedics.
"I think urology proved that private equity could partner with surgical subspecialty physicians, and I think that's what catalyzed investment in orthopedics," Torres said. "There are now nearly 20 private equity-backed orthopedic platforms, and those have really been formed in just about two years. It shows you how quickly the market moved in the hopes of realizing an even more lucrative investment."
Private practice groups tend to be relatively small.
Tiedmann explained that private equity firms prefer to acquire larger independent practices, but as mentioned above, a significant percentage of private practice urology groups are small. About 60% have six or fewer physicians. That said, there are still several large, independent urology groups in the US that would be prime to become platforms.
"A private equity firm is unlikely to create a platform out of a three-doctor group," Tiedmann said. "For there to be more deal activity, you would first need to see more of the larger practices become platforms themselves."
However, Tiedmann added, there may be even less incentive for urologists to group together and form larger private practice platforms. "Frankly, urology groups can sustain themselves quite well on an independent basis relative to other specialties."
Many urology groups have already invested in themselves.
Unlike in cardiology, where the ability to perform procedures in outpatient settings is still a relatively new phenomenon, this has long been an option for urology groups. Whereas cardiology practices and platforms are still in the early stages of investing in ancillaries like ASCs, urology groups have already been doing this for years. And, since urologists are among the most highly-compensated subspecialists in medicine, many private groups have been able to invest in these ancillary services on their own.
"There are groups of varying sizes who already have a radiation oncology presence, have started their own lab, or are trying to do their own in-office dispensing," Salomon said. "Most of our urologists are involved in one, and sometimes more than one, ASC."
Tiedmann added, "Urologists aren't facing major reimbursement change or pressure at the moment. They can be members of an ASC and add ancillaries to their practices no matter the size of their group. Therefore, they can sustain a nice living without necessarily needing to be part of a large group. Many are content being independent not only of hospitals but of private equity as well."
There is potential pushback from younger physicians.
A study published in 2022 suggested that younger physicians might be enticed by private equity offers because of the opportunity to achieve a greater work-life balance. The researchers wrote that in a PE structure, "flexible working times, parental leave options, a sufficient salary and additional corporate benefits provide personal autonomy."
However, Tiedmann said he has seen resistance to private equity among some younger doctors. "We are even seeing groups needing to make commitments to younger physician recruits that they won't sell, at least for a period of time."
Tiedmann shared his theory for why this could be happening: "I suspect the younger associate physicians want time to earn partnerships so they can participate in a transaction. Maybe they've had friends who joined a practice that then traded six months later and they didn't get anything out of it. And now all of a sudden, their partnership track is gone. Also, those younger doctors have longer careers ahead and want to ensure the partner is right, so they likely want a say in the decision."
However, Salomon said his team at Unio does not experience this type of pushback with their physician-friendly affiliation model.
What factors might drive future deals in urology?
A significant number of urologists are approaching retirement. The American Urological Association says 58% of private practice urologists were 65 and older as of 2022. The group's census data shows that 33.8% of male urologists and 34.5% of female urologists plan to retire before age 70.
As Levin Associates previously heard from orthopedic surgeon and former Health and Human Services Secretary Tom Price, a private equity deal can be enticing for a physician nearing retirement – it gives them an opportunity to retain equity even after they're no longer practicing medicine.
"Partnering with private equity is an opportunity for doctors to monetize the sweat equity they've put into their practice," Price explained. "The doctors are able to gain greater financial security by having equity/ownership in the new business entity, resulting in a potentially rewarding investment not currently available to them in their independent practice."
Private equity can help physicians handle administrative and business tasks.
"A lot of these practices are facing headwinds like administrative costs and reimbursement complexity," Torres said. "There is an ability for these practices to partner with private equity and get help with those things."
Salomon echoed that sentiment. "Even the bigger practices have a mixed record in successfully driving their ancillaries, which can be hard to run without professional management. And if you're not doing it at scale, it can be expensive and time-consuming."
Salomon continued, "These physicians are very hard workers. We do all our strategic planning with them after hours because they're busy folks all day long. When Unio Health Partners steps in, they get access to well-managed ancillary programs and core infrastructure functions like revenue cycle management, accounting, human resources, marketing and IT. It can be a very compelling proposition."
For how much are urology practices trading?
"No matter the specialty, and this is not unique to urology, but all multiples in physician practice have come down a turn or two just given the market environment," Tiedmann said. "What was mid-teens two years ago is low to mid-double-digit today. What was squarely at 10x two years ago is eight to 10 today."
In separate interviews, both Torres and Tiedmann noted that larger urology practices with access to successful ancillaries may still trade for 10x EBITDA or above.
"I advised on a larger one that closed recently for a double-digit multiple. That deal demonstrated the importance of size and scale," Torres said. "They were the dominant practice in their market. They were breaking ground on a third ASC. All of that gave the buyer a lot of comfort that all of the growth that was being articulated was truly being realized."
Smaller urology practices earning up to $5 million of EBITDA have traded for as low as 4x EBITDA, while practices earning up to $10 million of EBITDA have gone for 6-8x EBITDA.
Salomon explained that when Unio Health Partners is negotiating with a practice about joining the platform, the sale price is just one part of the equation. "The multiple is rarely a deal-killer."
Figuring out whether the two sides can work well together to improve efficiency and grow the practice is the focus of the negotiation. The purchase price is "step one in what is an always-evolving relationship with these partners," Salomon said.
Predictions for the urology sector
"I think there will be continued consolidation," said Salomon. "For Unio specifically, I think if we maintain our focus on working with the best groups and providing quality integrated care opportunities, the future is very bright."
"I expect we'll see a very large secondary transaction in urology, probably in 2024," Torres added. "My other prediction is I think we'll see consolidation among the consolidators. You might see platforms come together and say, 'Doesn't it make sense for us to combine?' That may be in lieu of a secondary transaction."
Tiedmann shared high expectations for the urology sector. "As time goes on, I think urology will eventually look more like orthopedics or cardiology. I think urology groups are going to come around."
He continued, "In orthopedics, they were maybe hesitant at first but came to understand the benefits that a private equity or business-minded investor could bring to the table. And once they got there, the floodgates sort of opened, and I suspect urology will function in a similar fashion. It's just a matter of time."
Erin Laviola is a writer for Levin Associates.
Levin Associates provides comprehensive coverage of the deals, companies, and trends shaping the healthcare industry. Clients have access to proprietary M&A transaction data and daily news & analysis through the LevinPro platform.

Schedule a demo today to see what LevinPro can do for your team.